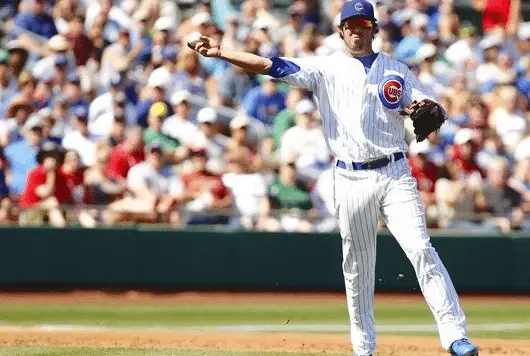 The biggest position battle taking place this Spring comes at the hot corner. Ian Stewart and Luis Valbuena, the two candidates for the job, are both short term options, with the Cubs looking at Junior Lake or Javier Baez as the long term third baseman. Stewart, who has long been the favorite for the job, resigned with the Cubs for $2 million in December, but the contract is not guaranteed unless he makes the major league roster. If he doesn't, the Cubs can release him and save $1.67 million. Stewart came to camp fully healthy, but injured his quad in the first spring training game, and has not played since. This opens the door for Luis Valbuena, who has always been that nothing special type player throughout his career. However, Valbuena has made the most of his opportunity and it would not surprise too many people if Valbuena is starting the year at third for the Cubs. Both Stewart and Valbuena struggled offensively last season, though in past seasons, Stewart has shown his offensive value. On the other hand, they are both very good defensive players, so that is an aspect that management doesn't have to worry about when making their decision. While Stewart is the better player, Valbuena is in a better spot, as he can make the team and still serve as a backup, whereas Stewart has to become the starter or he will be released.
As far as other options go, Brent Lillibridge could platoon with Valbuena if Stewart is let go of. Lillibridge is a super utility guy who struggled at the plate last year. Josh Vitters was abysmal after his August call-up, and is almost certainly going to start in Triple A. Many Cubs reporters seem to believe that Junior Lake could be the first one called up if Stewart, Valbuena, or Lillibridge suffer an injury during the season. Lake is an above average and exciting major league prospect who could be a welcoming sign on a Cubs team that isn't looking to good this season.
While nothing is set in stone, I think that Ian Stewart will end up as the victor in the Cubs biggest position battle. He has the better bat and has the slight edge defensively as well. My next preview will feature an outlook on the Cubs outfield.
For More Great Chicago Sports Content
Follow us on Twitter at @chicitysports23 for more great content. We appreciate you taking time to read our articles. To interact more with our community and keep up to date on the latest in Chicago sports news, JOIN OUR FREE FACEBOOK GROUP by CLICKING HERE