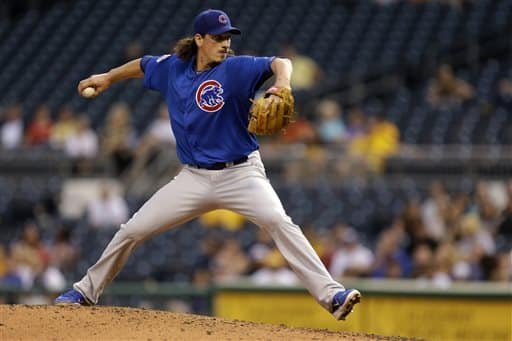 Win: Francisco Liriano (3-0)  Loss: Jeff Samardzija (2-6) Save: Mark Melancon (1)
Home Runs: None
The Good: The Cubs had a very good game pitching, with Jeff Samardzija delivering one of his best outings of the season. He allowed just one over seven innings, scattering just three hits and striking out eight. He only allowed one hit after the first inning. Carlos Villanueva, in his first inning of relief with the Cubs, pitched a scoreless eighth. On the bases, Julio Borbon added his fourth steal of the season. Welington Castillo was the only Cubs with multiple hits.
The Bad: Starlin Castro committed his seventh error on the young season, as his fielding only seems to be mildly improving.
The Ugly: In what seems to be a theme this season, the Cubs yet again failed to hit with runners in scoring position. They went 0-6, and just one hit could have tied the game. They missed three huge chances, with the best coming in the third. The Cubs had the bases loaded with nobody out and couldn't even get one run home. In the eighth inning, the Cubs had a runner on second with two outs, but Anthony Rizzo struck out. Finally, in the ninth inning, the Cubs had first and second with only one out, but Ryan Sweeney and Darwin Barney both popped out to second base. The Cubs need to drive in runners in scoring position if they want to finish with a respectable record this season.
The Stat: Cubs starting pitchers have surrendered only four runs in their last four games, but the Cubs only have won one of those games.
Notes: In case you missed it, Shawn Camp was placed on the 15 Day DL, and Rafael Dolis was recalled for the third time this season.
Early start tomorrow at 11:35. Jeanmar Gomez will face Edwin Jackson.
For More Great Chicago Sports Content
Follow us on Twitter at @chicitysports23 for more great content. We appreciate you taking time to read our articles. To interact more with our community and keep up to date on the latest in Chicago sports news, JOIN OUR FREE FACEBOOK GROUP by CLICKING HERE