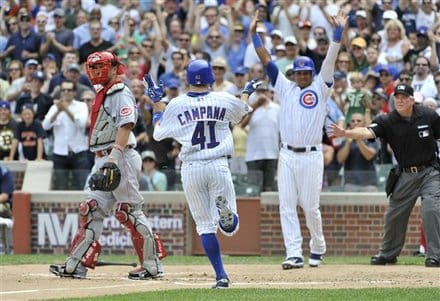 Can you believe? Just last week the Cubs lost five in a row and the team seemed to be getting worse by the game. Now, the Cubs have won six games in a row. Another close on today at Wrigley, but the Cubs managed to get the win.
The Cubs got out to an early lead on Campana's two run inside-the-park home run. It was Campana's first home run of his career. Colvin added on to the lead in the second inning with a homer to right in the thick of the wind. Colvin has been swinging a good bat for the Cubs after being called up with the trade of Fukudome.
The Cubs received a solid outing from starter Ryan Dempster. The right hander pitched six innings allowing two runs on four hits. However, Dempster got himself in a few jams because of the six walks he issued.
The Cubs took a 3-2 lead into the bottom of the seventh when Carols Pena barely missed a grand slam. However, Castro scored on the play making the score 4-2 Cubs. The sac fly by Pena proved to be the game winner for the Cubs.
After giving up a lead off home run , Kerry Wood settled in and preserved the Cubs lead. Cubs closer Carlos Marmol pitched a scoreless ninth the record his 24th save of the season.
Other notes: Campana's inside-the-park home run was the first one at Wrigley Field since Sammy Sosa hit one in 2001. The last Cubs to hit an inside- the-park home was Geovany Soto in 2008 in Houston.
The Cubs will look to continue their winning streak Saturday as Zambrano faces Cueto. The Cubs as a team have batted .306 vs Cueto including a.346 average from Soriano.
For More Great Chicago Sports Content
Follow us on Twitter at @chicitysports23 for more great content. We appreciate you taking time to read our articles. To interact more with our community and keep up to date on the latest in Chicago sports news, JOIN OUR FREE FACEBOOK GROUP by CLICKING HERE