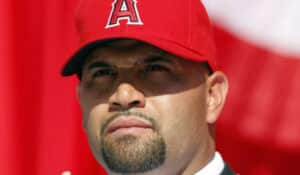 While this is an interesting topic on its own, Fantasy Baseball is nigh and people have decisions to make regarding keepers or their first round picks.
I'm going to evaluate Pujols' 2011 stats to determine if Pujols will have a Pujols-like season in 2012 or if 2011 was the start of his decline.
Because, let's face it, hitters don't stay awesome forever: they have to start declining at some point.
For starters, I would like to point out that Pujols is on the wrong side of 30. 31 is typically when a hitter peaks and Pujols is currently 32. Granted, this is not far beyond peak age (and this is Pujols we're talking about here), but it is something to keep in the back of your mind as you read the rest of this article.
Let's take a look at some troubling 2011 numbers from the slugger.
The first troubling stats are the massive decline in his BB% and his BB/K ratio. In 2009 and 2010 respectively, his BB% was 17% and 15%, while his BB/K ratio was 1.80 and 1.36. In 2012, his BB% drastically dropped to 10% and his BB/K ratio to 1.05 (the result is a lowered OBP from 441 and 414 to 366). Now, 1.05 is still a really good BB/K ratio, but one can't help but notice the decline here. Granted, he had 23 fewer intentional walks in 2011, but what does that say about how teams perceived him?
Another troubling number was his 2011 Ground Ball Rate. Before 2011, the highest it had been was in 2002: 43%. Between 2008 and 2010, his average GB% was 39%; pretty impressive. In 2011, his GB% skyrocketed to 45%! That's not a good sign (also, his FB% dropped from 45% to 38%).
You take all this and add on top of that the fact that Pujols not only switched teams in the offseason, he switched leagues. This worries me greatly when players switch leagues and ballparks (see: Adam Dunn).
The final issue that worries me is that while he finished inthe top 15 in value in 2011, he finished 14th.
So, what does this all mean?
I am not saying that if you have a top 3 pick in your draft this year that you shouldn't take him (I have him in my projections to finish 2nd overall behind Miguel Cabrera, but I, like everyone else, had him projected to finish first last year; and we all know how that turned out); because he's likely going to put up at least 2011 numbers again this year.
All I am saying is to be wary and be prepared; because the decline has to come eventually. And, I wouldn't pay more than $40 for him if you are in an auction.
Was 2011 the start of this decline or was it an aberration?
If I knew the answer to that, I'd win my fantasy league every year.
PS – I'm in a 10-team keeper league (allowed to keep one player) and I'm drafting 9th out of 10th. I kept Pujols.
For More Great Chicago Sports Content
Follow us on Twitter at @chicitysports23 for more great content. We appreciate you taking time to read our articles. To interact more with our community and keep up to date on the latest in Chicago sports news, JOIN OUR FREE FACEBOOK GROUP by CLICKING HERE