A winless week for the Blackhawks has brought the team and the fan base down from cloud nine and back to the reality of the Western Conference playoff race. In fact, the eight-game winning streak never put the Blackhawks in a comfortable spot, as one would assume.
The 'Hawks were always two to four points away from the scuffle. The 'Hawks are currently in 5th place in the Western Conference, but that's a little deceiving. Los Angeles, the eight seed, is only two points, or one win, away from the 'Hawks.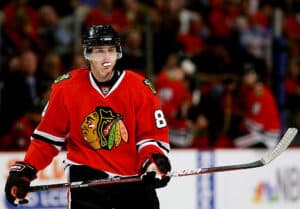 There is almost no room for mistakes or losing streaks, and things are not going to get easier for the 'Hawks down the stretch.
Next week is filled with tough games. Sunday, they face the Capitals, then they're off to play the Pacific-leading San Jose Sharks on Monday, before ending the week off with the Stars on Thursday. All teams are currently in the playoff run. Both San Jose and Washington are playing their best hockey of the season, so I fully expect them to put up a lot of resistance.
Two wins next week would be ideal, but it would require the 'Hawks to play like they did during the wining streak. Recent injuries to Dave Bolland and Brian Campbell will have an affect on the games next week, possibly leaving the 'Hawks without two of their top players.
It's coming down to these final two months. Although it's usually around this time that gives us a pretty good feeling of who is going to make the playoffs, the Western Conference this season has been the exact opposite. There are still eight teams separated by four points, and with just a little over a month left in the season, things are bound to change.
I believe the 'Hawks have the talent to deserve a playoff spot. I am also very confident that they will make the playoffs, but what can't happen this late into the year is a breakdown that leads to a losing streak.
Blackhawks play the Washington Capitals on Sunday at 11:30 am CST.
For More Great Chicago Sports Content
Follow us on Twitter at @chicitysports23 for more great content. We appreciate you taking time to read our articles. To interact more with our community and keep up to date on the latest in Chicago sports news, JOIN OUR FREE FACEBOOK GROUP by CLICKING HERE