DryHop Brewers finally opened its doors at 5pm Thursday, June 13th. DryHop Brewers is part brewery and part kitchen. They brew craft beers, which are only available at their Lakeview location. They tend to keep their focus on more hoppy beers.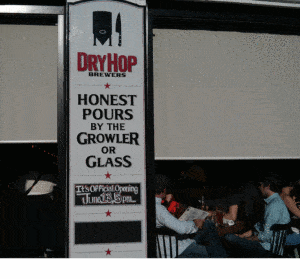 Due to Chicago's awesome traffic, my beer nerd boyfriend and I arrived a little late around 5:20-ish. The place was completely packed by then. Every single table and the surrounding bar area was full – but that's gotta be a good sign right? Despite it being such a madhouse inside, the host was calm and helpful. We put our names on the list and walked to the lakefront and back. Walked to go get hibiscus tea at a nearby shop. Walked to get my sweater from the car because it was getting cold out. And a whole lot of people watching in between. Basically, we had time to kill.
DHB's kitchen is "small and green" as their website warns, so we remembered to bring our patience with us. This wasn't just a 30-40 minute wait, this was your Kuma's Corner 2 hours+ wait. We finally got seated around 7:30. And after all that waiting we felt like kids in a candy store when we got our beer/food menus.
Now, you might be thinking there's something wrong with us for waiting over 2 hours just for some food and some beer. But if I'm being honest, I'd do it over again. Plus, the wait isn't as bad as it sounds because DHB is located in a great spot on Broadway with plenty of shops/stores to keep you entertained, hence the hibiscus tea. Not the mention the lake is right around the corner and that's always a great sight to see. I'm sure you can think of something.
Anyways, fast forward to us actually being in our seats. Since the brewing room is part of the restaurant, that doesn't leave a lot of space for tables. But they work with what they've got. Plus the brewing room holds the mash tun, boil kettle and all that fancy brewing equipment which brings us the beer, so we like that room. We sat at one of the larger group tables which held about 10-12 people. Everyone who sat around us was friendly and up for some light conversation. Despite the chaos that is opening day, DHB had a very relaxed atmosphere.
First we ordered a beer flight, which is a 4oz sample of 6 of their beers. We had "Batch 001″ (their very first beer!) which is a cream ale; "Shark Meets Hipster" which is a wheat IPA; "Velvet Divorce" which is a Czech pilsner; "The Judge" which is an American pale ale; "The Angry Samoan" which is a coconut milk stout; and "Vampire for Your Love" which is a saison.
"Shark Meets Hipster" (6% abv): This beer is definitely for all you hop-heads out there, which is probably why I didn't care for it very much. My boyfriend, on the other hand, eagerly approves and said it goes down "dangerously good." It has a thin wheat body with a pine-y bitterness that overwhelms your palate, in a good way.
"Vampire for Your Love" (6.2% abv): This was my absolute favorite by far. Admittedly, I'm not the biggest beer fanatic, I don't like super hoppy beers and I really don't care for any darker stouts or porters. This had a light gold/blondish hue. As you pick up the glass you can smell the lavender, rosemary and pepper. It's flavorful and slightly bitter from all the spices. It has very light amount of hops (which is totally fine by me) and you get a hint of lime at the very end.
"The Angry Samoan" (5.5% abv): This one smells delicious like a sweet mixture of coffee and chocolate milk. It tastes like dark chocolate and isn't overly bitter. It ends with a slick and sweet mouth feel. Only at the end do you get a hint of the coconut flavor.
Overall, the beers were really good and I'd be interested in seeing what else they come up with. But even if you're not into the beer scene that much, you need to come for the food. The food is phenomenal and that is not a word you just throw around lightly people. It was really, really good and innovative and fun and typing this out makes me want to drive over there right this second. Their menu works a little bit differently here and is split up into 5 sections (Handfuls, Fork and Knife, Between Bread, Brewer's Favorites and Sweets). The majority of these dishes are all small plates and they recommend 4-6 plates per couple. Our waiter was extremely helpful in explaining the small plates concept to us and was eager to share his beer knowledge with us as well. The only larger, entree-sized portions are the burger and pastrami spiced lamb sandwich.
This isn't your typical bar food by any means, it's more upscale and trendy but still rustic and comforting all at the same time. You absolutely need to order the Country Ham and Gruyere Croquettes, which are served with traditional bechamel and fried quail eggs.
Another favorite was the Beer Brined Pork Belly, served with a fresh bean salad, yams and brown ale pan juices. The meat was extremely soft and succulent. It paired really well with the sauce and yams, I only wish they added more meat on the plate.
Their version of Poutine (fries topped with gravy and various additional toppings) came with hickory smoked bacon, aged cheddar, scallions and smoked country sausage gravy. You can't go wrong with bacon, cheese, gravy and fries. You just can't.
This was an excellent dish to eat alongside with their beer. Our problem was we were starving and overloading on a bunch of fries for dinner wasn't the best idea. To me, this is left better as a snack or late night bite. Their Burger is a custom blend of naturally raised brisket and short rib. Its toppings include chile-tomato jam, arugula, pickled sweet onions and creamy aged raw milk cheddar. Their menu also includes salmon, shrimp, hanger steak, red curry mussels, southern fried chicken and a bunch of other delicious-sounding plates. By the end of our 4 plates, we couldn't eat another bite. My only regret was not saving room for their Old Fashioned Cake Donuts, which are served with liquid cheesecake for dipping.
The bottom line is, Brewer Brant Dubovick and Chef Pete Repak know what they're doing. You will not be disappointed here. The great service, relaxing atmosphere and phenomenal food and beer makes up for any possible wait. DHB is very much worth your time.