Fangraphs has begun posting their organizational rankings for all 30 Major League ballclubs, and they have recently announced the Cubs as the 19th best organization in baseball.  Last year the Cubs came in at 18th, so they feel we are actually regressing instead of progressing which is never a good thing.
Fangraphs calculates their rankings based off of four things: Present talent, future talent, financial resources, and baseball operations.  The only saving grace the Cubs have according to Fangraphs is their financial resources, in which the Cubs rank tied for 5th overall.  The highest they rank among the other three is tied for 20th which is in future talent.  This simply does not bode well for us as Cub fans.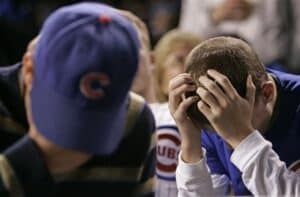 I will start with future talent in this breakdown.  Fangraphs ranks us tied for 20th overall which isn't really a big surprise after shipping off several pieces in order to get Matt Garza.  The Rays organization ranking has not been released yet, but they have either the best system or the second best farm system in baseball.  It's really a toss up between them and the Royals.  Regardless 4 of the players we sent over make their top 20, including two in the top ten (Chris Archer (4) and Hak-Ju Lee (8)).  If we would have kept those I really think the Cubs could have been a top ten future talent, which would have really increased this ranking in my opinion.  Unfortunately we moved these players, and it didn't really help our current value.
Our present talent according to Fangraphs sits tied for 22nd overall.  I am not sure I agree with this one, though.  I understand the Cubs struggled last year accumulating only the 23rd most wins in baseball, but does anyone think they are going to be that bad again?  They did acquire Matt Garza in the offseason (which you would think while hurting the one category would help the other) and got Kerry Wood back, while not really losing much.  I am not sure where Fangraphs is getting this number.  I think the Cubs are in the 12-18 range in terms of present talent.  Though this ranking may explain the last one.
Baseball operations: 29th.  Holy cow!  How can a team that ranks 5th in financial resources and then rank 29th in baseball operations.  It's absolutely mind blowing.  Fangraphs really does not like how Hendry has spent the money he has, and I think most people would agree with him.  What I don't get is how they can praise him for his trades, and harp on his FA signings, but then rank him 29th?  You would think having a net positive on one side would at least net you a few spots above the Royals at least.  They think the only front office worse than the Cubs is the Astros.  I agree it's not a good front office but I think it is better than 29th.  Though to be fair this list of players really does sum up our despair:
Jake Fox, Sean Marshall, Casey McGehee, Mitch Atkins, Eric Patterson, Sam Fuld, Sean Gallagher, Jerry Blevins, Micah Owings, Donnie Veal, Tyler Colvin, Jeff Samardzija, Josh Donaldson, Darwin Barney, James Russell, Andrew Cashner, and Casey Coleman.
That's a list of players drafted by Hendry that have made the majors.  That is one ugly group.  There are a few players you might want on your team, but their isn't one player you would really look to have as a cornerstone for your organization, and that's not good at all.  The drafting has gotten better since Tim Wilken has come on board, but it's still not pretty as we sit 20th in future talent.
Something needs to be done with this organization.  How can a team with plenty of resources, a great set of fans, and sitting in a great city be so poor?  How can things have gone so poorly so quickly?  How did it get here?  Something needs to change and change fast, or the Cubs are going to fall further and further down this list each and every year.