Boston Celtics general manager Danny Ainge made headlines last week when he publicly declared on WEEI in Boston that he'd consider breaking up the Big Three of Ray Allen, Kevin Garnett and Paul Pierce:
"Of course if we get the opportunity to make a trade that will help our team, we'll do it"
Ainge went into great detail on how former general manager and legendary head coach Red Auerbach had opportunities to trade their older players but decided against it with poor results:
"He (Auerbach) had a chance to trade Larry (to Indiana) for Chuck Person and Herb Williams and (Steve) Stipanovich and he had a chance to trade Kevin (to Dallas) for Detlef Schrempf and Sam Perkins. I was like, 'Are you kidding?' I mean, I feel that way now. If I were presented with those kind of deals for our aging veterans, it's a done deal to continue the success."
Where does this put the Chicago Bulls? Simple.
The veteran guard's resume speaks for itself, he is arguably the league's greatest three-point shooter of all time, has averaged 20.2 points per game in his career including a 16.5 points per game last season.
In 2011-12, thus far Allen is at 14.9 PPG, the worst since his rookie year, but also sports a 17.1 PER, his best number since 2008-09.
Allen's best days are behind him, but you get that with any 36-year-old. The key is that Allen makes the Chicago Bulls a better team this year.
The Bulls sit at 15-3 right now and are the top seed in the Eastern Conference this year. Despite this, they still have potential matchup problems with LeBron James, Dwyane Wade and the Miami Heat. Allen helps the Bulls close that talent gap and adds another wrinkle to the Bulls attack.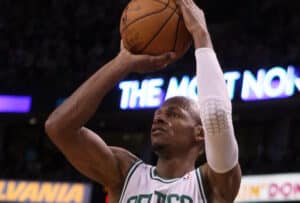 These points are all obvious; an issue arises in whom the Bulls could give up for Allen.
Ainge stated he needed the opportunity, which in this case means the right deal. He does not want to take on a player or contract like Carlos Boozer. The key to any Celtics trade will be youth.
Another question is contract, while Ainge doesn't want to take on a deal like Boozer's, Allen is still at $10 million this year, anyone with knowledge of NBA trades knows you have to match money.
Allen's deal expires at the end of this year meaning that $10 million can come off the books and add a bargaining chip to any potential Bulls free agents.
Hypothetically, the Bulls need to offer youth, talent and match the contracts.
The deal that seems to fit the most for me is Jimmy Butler, Ronnie Brewer and Kyle Korver for Allen.
In a macro sense, ESPN's NBA Trade Machine says this deal is a plus-three wins advantage to the Bulls and a minus-two to the Celtics. All told, that is not too bad and it is made worse by Butler's lack of playing time this season.
From the perspective of a Bulls fan, it is extremely tough to make this deal. Butler, while playing very limited minutes, is still an intriguing prospect. He has the physical tools to be a top-tier defender in the league and has looked above average offensively in his short stints.
Brewer is a completely different story, largely a disappointment last season, Brewer has been one of the Bulls most valuable players this season. He is hitting 50 percent of his shots from long distance and is averaging 6.9 points per game. Most importantly, Brewer is the Bulls second-best defender. Losing him would be a gigantic blow.
Korver, despite some early season struggles, has looked great over the past two weeks. He has raised his three-point percentage to 44 and has really thrived as a member of the "Bench Mob."
Korver is due $5 million over the next two years which is about his market value if not slightly above.
I have trouble deciding if I would make this deal or not. I really do. Allen makes them a better team this year; I have no doubt of that.
Despite a recent ankle injury (which does not appear to be severe), Allen is still an elite shooter in the NBA. Moreover, Allen's playoff history shows the amount of damage he can do when it matters most.
The big issue, though, is long-term. Brewer appears to be coming into his own; you would absolutely hate to give him up just as he is seemingly entering his prime.
Korver's three-point shooting would hurt to lose but when you're talking about upgrading to Allen, it's a moot point.
Butler is an interesting question as well. You could argue he is easily replaceable but he could be special. He is raw offensively, but the talk around the Bulls is that he has the ability to one day be an everyday player in the league.
The fact remains, you do not wait for that one day…you go for the championship this year.
Allen's $10 million comes off the books next year so you can always sign a free agent to fill the void left by Brewer and the draft can always present itself with intriguing prospects like Butler.
It is a hard pill to swallow but for a team with a championship window, short-term moves need to be a priority. If Ainge wants to trade Allen for the right deal, the Bulls should do what they can to acquire him.
For More Great Chicago Sports Content
Follow us on Twitter at @chicitysports23 for more great content. We appreciate you taking time to read our articles. To interact more with our community and keep up to date on the latest in Chicago sports news, JOIN OUR FREE FACEBOOK GROUP by CLICKING HERE