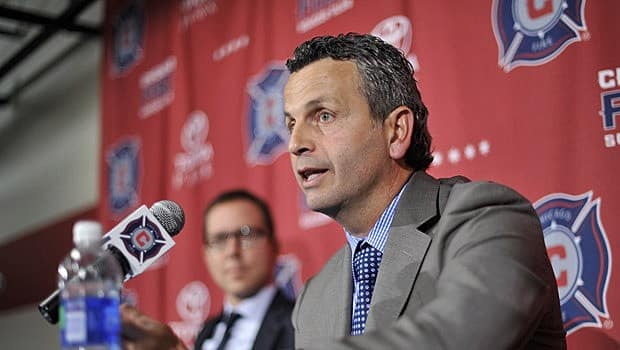 After firing Carlos de los Cobos mid-season, Frank Klopas was named the interim head coach of the Chicago Fire.  After turning the team around from a last-place club to mere points out of the playoffs in a season that featured a 7-3-2 run at its conclusion, Klopas had the interim tag removed and is now remaining the head coach of the Chicago Fire.
The press conference was held today, and you can listen to it on Chicago-Fire.com or download it on iTunes.
http://www.chicago-fire.com/news/2011/11/klopas-press-conference
Now that Klopas is the official head coach, the next order of business will be to try to retain players with expiring contracts, many of which have expressed interest in returning.  The Fire project to be an MLS Cup contender next season, and now they have the strong head coach that any championship team must have in the forum of Frank Klopas.
Meanwhile, the MLS Cup Playoffs are ongoing, and are currently in the Conference Semifinals stage.  Sporting Kansas City eliminated the Colorado Rapids yesterday with a 2-0 win (4-0 aggregate), and the Seattle Sounders FC were eliminated despite defeating Real Salt Lake 2-0 due to their 3-0 loss in Game 1, leaving them down 3-2 in the aggregate scoreboard.  The Los Angeles Galaxy lead the aggregate 1-0 over the New York Red Bulls and the Houston Dynamo lead their aggregate 2-1over the Philadelphia Union.  Both remaining games are tonight, and the next round will be the one-game elimination Conference Finals stage.