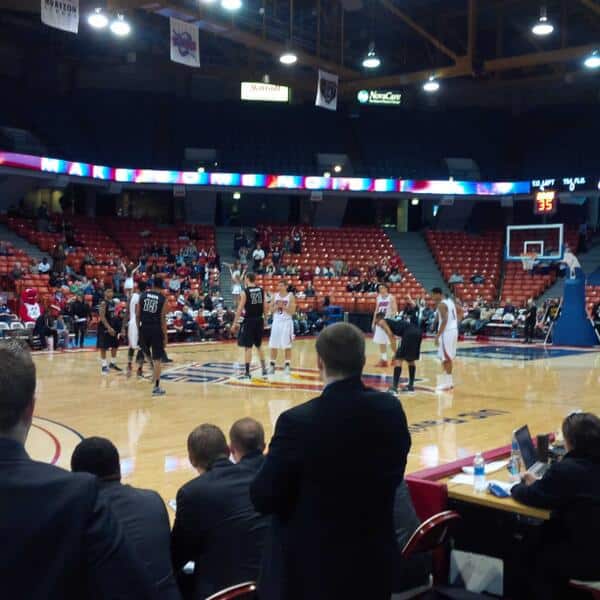 CHICAGO- The Illinois-Chicago Flames just can't catch a break as they lose their eighth straight -and their third straight at the UIC Pavilion– by squandering opportunities and making mistakes left and right, giving Wisconsin-Green Bay a 69-64 victory. The Flames were competitive most of the afternoon and had led three times during the course of the game.
Missed shots at crucial times, missed free throws, turnovers and a lack of rebounding were once again their downfall. Here is how it all wen't down….
The Flames (5-14, 0-5 Horizon League) scored first at right after winning the tipoff thanks to a quick layup from junior guard Marc Brown. But over the next few minutes, the Phoenix (15-3, 5-0 Horizon League) would take a 6-2 lead thanks to missed shots, missed rebounding opportunities and turnovers. As the half continued, UIC would finally start putting some points together only to see UWGB respond with baskets of their own.
Thanks to junior forward Will Simonton and freshman guard Pat Birt, the Flames would cut Green Bay's lead to deficits of three, three, two and one. But every time Howard Moore's team had a chance to tie or take the lead, they could not convert. Green Bay's 53-percent first half shooting gave them a 33-29 halftime lead.
When the second half began, the Flames (after some possible halftime motivation by coach Moore) would get some solid defense and go on a 16-8 run -thanks to back-to-back three pointers by Birt, with some inside buckets by senior forward Jordan Harks and sophomore forward Jake Wiegand– to take a 45-40 lead with 16 minutes left to play. After a brief timeout, coach Moore's team slowed down a little bit as Wisconsin-Green Bay went on a 7-5 run to cut the Flames lead to 50-47 with 11:34 left to play.
From there however, the Flames would get right back into it as they went on a 8-4 run to increase their lead to 58-51 with 7:51 left on the game clock. But then the Flames hit a dry spell, they had numerous chances at the free throw line but missed half of their foul shots. Despite the many foul calls, the Phoenix went on a 10-5 run to cut it to 63-61 Flames with three minutes remaining.
After another timeout, Green Bay finally took the lead thanks to an alley-oop dunk by junior guard Keifer Sykes which caught the UIC defense completely off guard. That was followed up by a three-pointer from Sykes -after a UIC turnover-  to take a 66-63 lead with two minutes on the clock.
In those final two minutes, the Flames ruined every chance that they had inch closer to either tie the game or take the lead. Harks was fouled underneath the basket but only made one of the two free throws he was awarded (GB led 66-64). After Green Bay missed a crucial jump shot,  UIC freshman guard Markese McGuire missed a three-point shot which would have given UIC the lead back.
On the very next possession, Green Bay sophomore guard Carrington Love made one of two free throws after he was fouled underneath by senior UIC forward Hayden Humes. UWGB led 67-64 at this point. Afterwards, Flames senior guard Kelsey Barlow missed what would have been a game-tying three-pointer. The ball was rebounded by Marc Brown but he lost the ball out of bounds to give it back to Green Bay.
Sykes would put the final nail in the coffin with another powerful dunk to give his team the victory. This loss raised another round of red flags for UIC. They only made 18-of-31 free throws (58.1-percent) and just 4-of-13 three-pointers (30.8-percent). They also continue to get dominated in the paint as they gave up 26 points underneath and allowed Green Bay to grab 30 rebounds.
Despite using Wiegand, Harks, Humes and Simonton, the Flames could not find an answer to Phoenix center Alec Brown. The 7-1 senior led all scorers with 23 points. He also had four rebounds and three blocked shots. Sykes also gave UIC fits as he finished with 21 points, four assists and shot 7-of-14 from the field.
Harks (11 points, three rebounds, one steal) and Birt (13 points, one assist, one steal) were the only Flames to score in double figures. Kelsey Barlow's ankle continues to bother him as he once again did not start. He came off the bench and only scored three points and shot just 1-of-6 from the floor (1-2 from beyond the ark).
Simonton continues to be in effective as well as he only managed to add four points and three rebounds. Barlow is the Flames leading scorer and his offense is needed now more than ever. Simonton needs to get back to his production level from last year so the Flames can have a presence in the paint.
At this point, back-to-back postseason berths are next to impossible for UIC. But if they want to get better and finish on a postive note, they need to defend better in the paint, make their free throws, limit turnovers, and hit the three-point shot when it counts. This three game homestand has not gone well for UIC (1-2 so far), and it only gets harder as third place Cleveland State comes to University Village on Wednesday.
The postseason may not be on the horizon (no pun intended), but a 10-win season is still workable. Heres is the box score from today's game.
Follow me on Twitter @GabeSalgado82