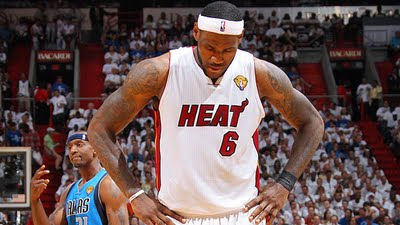 You have not been on the internet the past couple days if you haven't seen or read a LeBron James joke. All through out the Mavericks-Heat series my facebook newsfeed was clogged full of LeBron James joking taking shots at how he doesn't perform in the clutch, he has no rings, etc. We have compiled the best ones from around the internet for your pleasure!
LeBron James was just traded to the Florida Panthers. He should be wildly successful, since in the NHL, there are only 3 periods.
I saw LeBron before the game and I asked for $1. He gave me 75 cents. I said where's the rest? He replied i don't have a 4th quarter.
What's the difference between Saturn and LeBron James? Saturn has rings.
Why did LeBron James get an automatic transmission in his Lamborghini? He's not good in the clutch.
Why didn't LeBron James go to college? Because he can't pass the finals.
What does LeBron James have in common with a fabric store? Neither carries any hardware.
Apple is coming out with a LeBron James iPhone. But it only vibrates because it has no rings.
Why does LeBron only get served boneless buffalo wings? Because he has a tendency to choke.
Tomorrow is Lebron James day, everyone gets to leave work 12 minutes early.
The haters woke up today with their same lives, just as LeBron woke up today with the same no. of championships they have.
If Lebron wanted a ring, he should have stayed in Cleveland and bought one from Terelle Pryor.
What's the difference between Mike Tyson and Lebron? Tyson never bit off more than he could chew.
For More Great Chicago Sports Content
Follow us on Twitter at @chicitysports23 for more great content. We appreciate you taking time to read our articles. To interact more with our community and keep up to date on the latest in Chicago sports news, JOIN OUR FREE FACEBOOK GROUP by CLICKING HERE