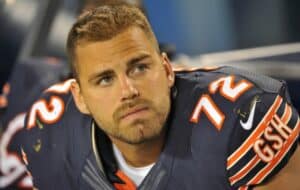 The Bears traded Gabe Carimi to Tampa Bay today.
LAKE FOREST- After weeks of speculation on the future of 2011 first round draft pick Gabe Carimi, the Bears announced today that Carimi has been traded to Tampa Bay for a sixth round draft pick in 2014.
Carimi was drafted out of Wisconsin in 2011. He was expected to relieve an offensive line that was plagued by injuries and inconsistent play. Just a few weeks into his rookie season, Carimi sustained a season-ending knee injury which would see him undergo multiple surgeries.
In 2012, Carimi had missed a good chunk of the offseason workouts as he was rehabbing and recovering from those operations. Once the season started Carimi was not himself.
He struggled in protecting Jay Cutler from outside pass rushers. He was eventually moved to guard before getting benched after his poor play continued. There was speculation as to whether or not he was completely healthy to begin with.
Carimi was the talk of the entire offseason, especially after he chose not to attend the "voluntary" Offseason Team Activities. Perhaps this was a mistake as the Bears are bringing in a new system under first-year head coach Marc Trestman.
Instead the former Wisconsin standout decided to train in Arizona. While Bears general manager Phil Emery publicly supported Carimi's decision, his teammates had refused comment on the issue for the most part.
Last week during OTAs, Emery had said that he expected Carimi to attend the mandatory mini-camps which begin on Tuesday. Now that won't be the case as the 24-year-old has been giving his walking papers pending a physical.
One can only imagine if Carimi's absence from OTAs played a part in this move. Or Perhaps the Bears were planning to move him because of the addition of 10 new offensive lineman during the offseason.
Whatever the case may be, Carimi will go down as yet another failed draft pick of former Bears general manager Jerry Angelo. With his roster spot now available, expect the Bears to add either a fourth quarterback or another defensive tackle.
For sports anytime you can follow me on Twitter @GabeSalgado82
For More Great Chicago Sports Content
Follow us on Twitter at @chicitysports23 for more great content. We appreciate you taking time to read our articles. To interact more with our community and keep up to date on the latest in Chicago sports news, JOIN OUR FREE FACEBOOK GROUP by CLICKING HERE