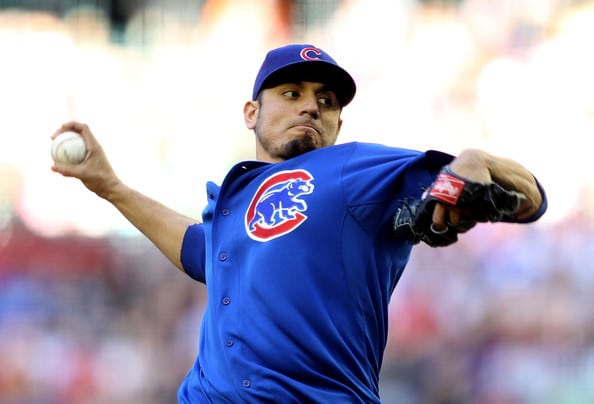 Matt Garza was back in blue and dealing. But what happened when he handed his beauty of an outing over to the pen? Well, we had the reoccurring nightmare we seem to experience too much of.
Tonight and to the day, Garza came back from a ten-month hiatus. His elbow problems finally did subside and was expected at season's open but was kept on the DL with a lat strain to his left side he incurred during spring training. His rehab start last week lasted 75 pitches over 6 scoreless innings which is why he got the nod to open up the series in Pittburgh.
He had everyone on their toes in the first, not sure of how sharp he would return. He made it through, though, with the help of Julio Borbon, who ran down Andrew McClutchen's fly ball with a step to spare before going straight into the fence.
The Cubs attempted to back Garza up on both ends and in the second, Alfonso Soriano and Wellington Castillo both reached base on singles. Darwin Barney wouldn't leave them out to dry as he knocked in Soriano; he would finish 4 for 4 with a triple. Garza would support himself by doubling to right-center obtaining 2 RBI in the process. This would be the 13th RBI for the club's pitching staff in May, making the most for the majors this month and the most for the Cubs since 1971.
Meanwhile, Garza was great. He had his slider, curveball and fast ball (95 mph) all working. The Pirates couldn't really touch him. Other than a soft single to right by Clint Barmes in the fifth, they had trouble reaching base. Garza did walk 3 and serve up a wild pitch by the time he was pulled after 5 and 82 pitches deep. Still, he had everything quite under control and was a much needed step in the right direction for Chicago.
What still isn't going so much in the right direction, however, is the bullpen. Hector Rondon replaced the starter and right away loaded the bases with a Neil Walker double, a Garret Jones single and a walk to Russell Martin. Southpaw James Russell came in and walked Pedro Alvarez, scoring Walker.
After only one batter and without getting the chance to settle down, Sveum pulled him. Despite Carlos Villanueva now available for relief, he went with Shawn Camp. Pinch hitter Travis Snider approached the plate and left the yard on a hanging slider, clearing the bases for a 5-3 Pirate lead.
We wouldn't see much after the sixth, except an RBI single from Castro in the ninth to inch the Cubs closer. They would end the game with men at the corners and lose to Pittsburgh 5-4.
Another start spoiled by the pen and the opposition. This story is more than old by now.
Tomorrow we'll see Jeff Samardzija (2-5, 3.49) and Francisco Liriano (2-0, 1.64) under the lights at 6:05pm.