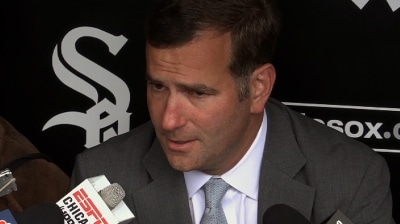 (Photo Credit: CSNchicago.com)
General Manager Rick Hahn isn't ready to give up on his 2013 White Sox (29-41) who now sit soundly at the bottom of the AL Central, thanks to a sweep by second-to-last Minnesota Twins (33-36).
You've just gotta know at this point that the phone is ringing non-stop with potential buyers and traders, but Hahn has remained calm under pressure and had this to say:
"I know there's frustration in the clubhouse. There's obviously frustration among fans, among staff. But we do have a fair amount of time left to get this thing right. […] We're still halfway through June. We aren't halfway through the season yet. We haven't played the first place team in our division yet."
And White Sox players are frustrated—that's no news to anyone. But by giving the current players plenty of time to figure out their batting/fielding/whatever-you-have-it, Hahn continues to show confidence in his team and their ability to bounce back from this rough patch. And with such a veteran team who's mature enough to fix their own flaws, it would be wrong to pull them, drop them, and trade 'em around.
With rumors surrounding potential trades and quick-buy solutions, Hahn remains silent on the issue. There's no doubt that there are teams out there who want Jesse Crain, who today just broke the White Sox record for consecutive scoreless appearances at 28. Other rumored top prospects include Jake Peavey (currently on DL), Alex Rios, Alexei Ramirez, and Chris Sale.
As far as the three games against the Twins, a game-by-game recap wouldn't be fun for anyone to read. This is all you need to know:
– The bullpen is struggling . From Axelrod's 10 hits in 6 innings on Monday, to Chris Sale's unusually poor start on Wednesday, it was bad news all around. And don't forget John Danks letting up four homers in five innings today.
– Well… except for Jesse Crain. Because he broke a record for not letting anyone score. Didn't ya hear?
– The bats are getting hot, but they're not hot enough. If they were hot enough, they would have won at least one game this series. No doubt there was life in the batting order these past three games—Paulywood and Dunn hit back-to-back homers in today's game— but quite frankly that doesn't matter if you can't win games.
– Errors are killer. In the last 70 games, the White Sox have had 51 errors. Alexei Ramirez and Gordon Beckham both had critical errors that set up more runs for the Twins. I know that baseball is a game of imperfection, but holy cow get your mitt on the ball!
– Away games are not their forte this season. But you know this by now. The Southsiders travel to Kansas City next to take on the Royals. The Sox are notorious for losing in KC… I'll be interested to see what Hahn has to say next Monday.
– "Hawk" Harrelson is going to have a heart attack. Unless the Sox decide to get their act together. Fast.
For More Great Chicago Sports Content
Follow us on Twitter at @chicitysports23 for more great content. We appreciate you taking time to read our articles. To interact more with our community and keep up to date on the latest in Chicago sports news, JOIN OUR FREE FACEBOOK GROUP by CLICKING HERE