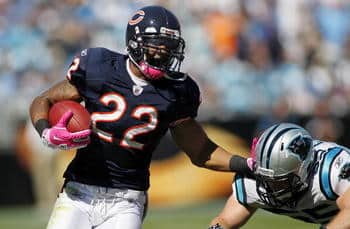 Without their leader Jay Cutler, the Chicago Bears went into a week five match up against the Carolina Panthers hoping they could pull out a win. Many fans didn't know if the Bears could muster out a win even against the 0-4 Panthers. But the Bears proved the doubters wrong, and nearly dominated all aspects of the game.
They jumped out to a early 17-3 lead, thanks to two Matt Forte rushing touchdowns. Forte broke a 18 yard touchdown run for the first points of the game. Then on the following drive he broke a 68 yard touchdown run.
Even with poor play from Todd Collins, the Bears now find themselves at 4-1 and atop the NFC North division. Thanks to a overtime win from Washington over Green Bay, the Bears have a one game lead over the Packers.
Quarterback
Todd Collins started the game and to be completely honest, he was horrible. In fact, maybe he should have stayed in Carolina and worked with their quarterback situation. Collins completed six passes on sixteen attempts. He finished with 32 yards, and 4 interceptions to put his rating at 6.2 for the day. Collins was making awful decisions all game, as well as over throwing a few receivers at times. The best thing Collins did all day was hand the ball off to Matt Forte.
Caleb Hanie saved this grade for the quarterbacks from an F. He wasn't great, but when he came in the second half the team looked more comfortable. Hanie had two completions in three attempts for nineteen yards. He played in mop up minutes where the Bears where running the clock out.
It's obvious the Bears need Jay Cutler in order to have a successful season. A major injury to Cutler, and this team's season can get ugly fast. Grade: D
Running Backs
If it wasn't for Matt Forte and Chester Taylor, we might be talking about a Chicago loss. Well never mind, the Panthers are real bad. Maybe just a Chicago 7-10 point win instead. Coming into the game the Bears knew they needed to get the run game established. I would say they were pretty successful at doing it. Forte ran for 166 yards and two scores on his career day. Taylor played a key role in the running game as well finishing with 43 yards.
The Bears running backs set the tone early, including two big runs from Forte to give the Bears a 17-3 lead. Getting some key blocks, which has been a rarity this season, helped push this run game forward. Now let's see if Chicago can keep it up the rest of the season. Grade: A
Wide Receivers/Tight Ends
This position was a tough one to grade for this game. Primarily because with the quarterback situation, the wide receivers and tight ends weren't going to get a lot of passes thrown to them. Mix in a stellar run game, and your in for a boring day if you like pass completions.
Tight Ends Greg Olsen and Brandon Manumaleuna did an excellent job in the blocking game for the running backs. Making several key blocks that led to big runs.
Todd Collins hit Devin Hester on a five yard reception in his first pass attempt, but after that the receivers were quiet. They were either watching the ball sail over their head from Collins or blocking down field. With Jay Cutler expected to be back next week, the receivers will likely see more action. Grade: C
Offensive Line
After being embarrassed and giving up ten sacks to the Giants last week, the Bears offensive line needed to play a spectacular game in order to gain any respect back from the fans. They didn't play spectacular, but they played good enough to help deliver Chicago a win.
The line got key blocks to help the Forte and Taylor on the ground, but their is still improvement needed.  A couple false starts and holding calls are something that needs to get fixed. They won't be great this season, but they need to be just good enough to protect the quarterback. Grade: B-
Defensive Line
The Bears defensive line flat out dominated the Carolina Panthers. Led by Julius Peppers who was making his first trip to Carolina as an opposing player. The defensive line had three sacks, all three by Israel Idonije, but they were in the backfield all game. Julius Peppers had a tipped pass interception and lured double teams to free other players on the line.
The Bears had seven tackles for loss from the defensive line alone. That's a recipe for success. If other players can dominate like this all season, teams will stop double teaming Peppers and making life easier for everyone on the line. Grade: A
Linebackers
Much like the defensive line, the Bears linebackers where in the backfield a majority of the game. Knowing the Panthers didn't have a good passing game the linebackers could stack the box and make the run game beat them. The run game never beat them.
Brian Urlacher continued his path to playing dominant football again, making several key plays in coverage and the backfield. He also added an interception and four tackles. Grade: A
Secondary
The Bears secondary didn't have to worry about a lethal Panthers passing game. With rookie Jimmy Clausen starting, and star receiver Steve Smith out for the game the Bears secondary had a field day. Charles Tillman had a interception and a few pass deflections. One of the only times the secondary was challenged deep, they stepped up. Danieal Manning  stepped up and knocked the pass down.
Grade: B+
Special Teams
Robbie Gould connected on all three of his field goal attempts including a 53 yard boot that was his career long. Gould also hit on both of his extra point attempts. Devin Hester almost took back another punt but was knocked out of bounds by the punter Grade: A
Coaching
The Bears coaches had a very good game plan and it was executed well. The defensive game plan was to make the Panthers beat you through the air, and they never did. Knowing that the Panthers only had a run game to rely on, Chicago stuffed that as well.
On the offensive side, the play calling could have been a bit better. With Todd Collins starting, the playbook was limited. Grade B
Final Grade: B
For More Great Chicago Sports Content
Follow us on Twitter at @chicitysports23 for more great content. We appreciate you taking time to read our articles. To interact more with our community and keep up to date on the latest in Chicago sports news, JOIN OUR FREE FACEBOOK GROUP by CLICKING HERE