Great Fantasy Football Team Names for the 2010 Season.
Recently, we wrote an article on the studs & duds for the 2010 season. This got fantasy football on our mind. Entire leagues are consumed with the idea of drafting the best players and navigating the waiver wire.
While that is an important aspect of the game, the name of your team is easily the most important component in fantasy football. Your team needs to stand out and be rememberable. We'll do our best to help you come up with something worthwhile for your league.
10 Fantasy Football Names for the 2010 Season.
The Bad News Bensons: Seems as if Cedric Benson can't stay out of trouble. The former Chicago Bears RB was arrested on assault charges. This makes him a great candidate to name your fantasy football team after. Bad news gravitates towards Benson like illicit drugs to Amy Winehouse.
Roethlisberger's Unwilling: Ben Roethlisberger's problems with women claiming he sexually assaulted them aren't something to joke about…unless you make it the name of your fantasy football team.
Kiper's Hairspray Syndicate: Mel Kiper's use of hair spray has caused more damage to our environment then the BP oil spill in the gulf. Every year it's hard to focus on the NFL draft due to the overwhelming spectacle of Kiper's hair. I cringe when I think about it.
It's a Vick in a Box: The SNL video skit "It's a Dick in a Box" is a perfect spin off for a fantasy football team name because coincidentally Michael Vick's last name just happens to rhyme with Dick. It's a Vick in a box! It's a Vick in a Box giiirrrrrllllll.
Favre's Bucket List: Ed Werder, you may want to look away because we're about to insult Brett Favre. It's that time of the year again….no, not summer or fall….the time of the year where Brett Favre plays wishy washy on his decision to keep playing or retire for good. I could have sworn it was over when he starred in that movie with Morgan Freeman.
Travis Henry's Illegitimate Children: Travis Henry had 9 children with 9 women. Imagine how many there truly are out there. …the numbers could be staggering.
Arizona Ocho Cincos: With Arizona's recent immigration law….well, nevermind….this one is just too easy.
Dante Stallworth Express: Dante Stallworth is a terrible driver especially when he is drunk. A little obnoxious but hey…..that is the point of a fantasy football name.
Tebows' Circumsized Army: Tim Tebow performed circumcisions on filipino children if that isn't enough footing to use for a fantasy football team name, I really don't know what is.
Sermon of Breesus Christ: He wins super bowls and walks on water. His name is Breesus Christ….but some people call him Drew Brees
10 Retro Fantasy Football Team Names
Reminiscing on Rick Mirer: Well god…..Rick Mirer was completely terrible. The thought of him ever being on a fantasy football team makes me laugh….and cry.
Let's Get Drunkenmiller: Besides being a huge bust in the NFL draft, Jim Druckenmiller has done one great thing in his NFL career. His accomplishment is being 1 letter away from having his name be DruNkenmiller.
The Hurricane Ditkas: Who would win in a fight? Coach Ditka, or a Hurricane? The popular SNL Sketch, Bill Swerski's superfans often showcased Chicago Bear fans discussing how awesome Coach Ditka was.
Marshall Faulk You: No real explanation for this one besides the words "Faulk" and "Fuck" are very close.
Romonowski's Spitstorm: Bill Romonowski is famous for being a pretty good linebacker in the NFL, taking steroids, and spitting in people's faces. Spit in the competitions' face by using this team name for your fantasy name.
Namath's 12 Step Plan: Joe Namath used to be a great Quarterback, now he shows up on Monday Night Football drunk and tries to kiss Suzy Kolber.
Onterrio's Unbeatable Whizz: Onterrio Smith was caught with an artificial penis , used to bypass drug tests. His plan wasn't unbeatable, but your fantasy football team can be.
Leaf's Antidepressant Army: Ryan Leaf was a head case in the NFL. Imagine an army of Ryan Leafs on antidepressants. That is one badass fantasy team.
The Todd Marinovich Project: Todd Marinovich was sculpted into the perfect Quarterback from a young age. However he did not turn out that way. Your fantasy football team can be just as lackluster, I promise!
Aikman's Befuddled Brain: Most of us will make boneheaded moves in fantasy football and our brains will as befuddled as Troy Aikman's from all of the concussions when we realize what we have done by Week 6.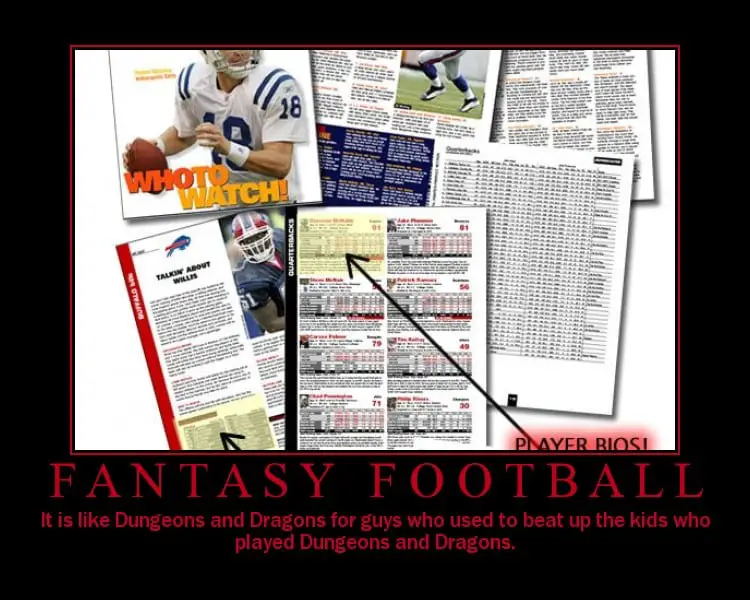 If you want to beat the NFL spreads this year sign up for the NFL handicappers at BetFirms.
For More Great Chicago Sports Content
Follow us on Twitter at @chicitysports23 for more great content. We appreciate you taking time to read our articles. To interact more with our community and keep up to date on the latest in Chicago sports news, JOIN OUR FREE FACEBOOK GROUP by CLICKING HERE