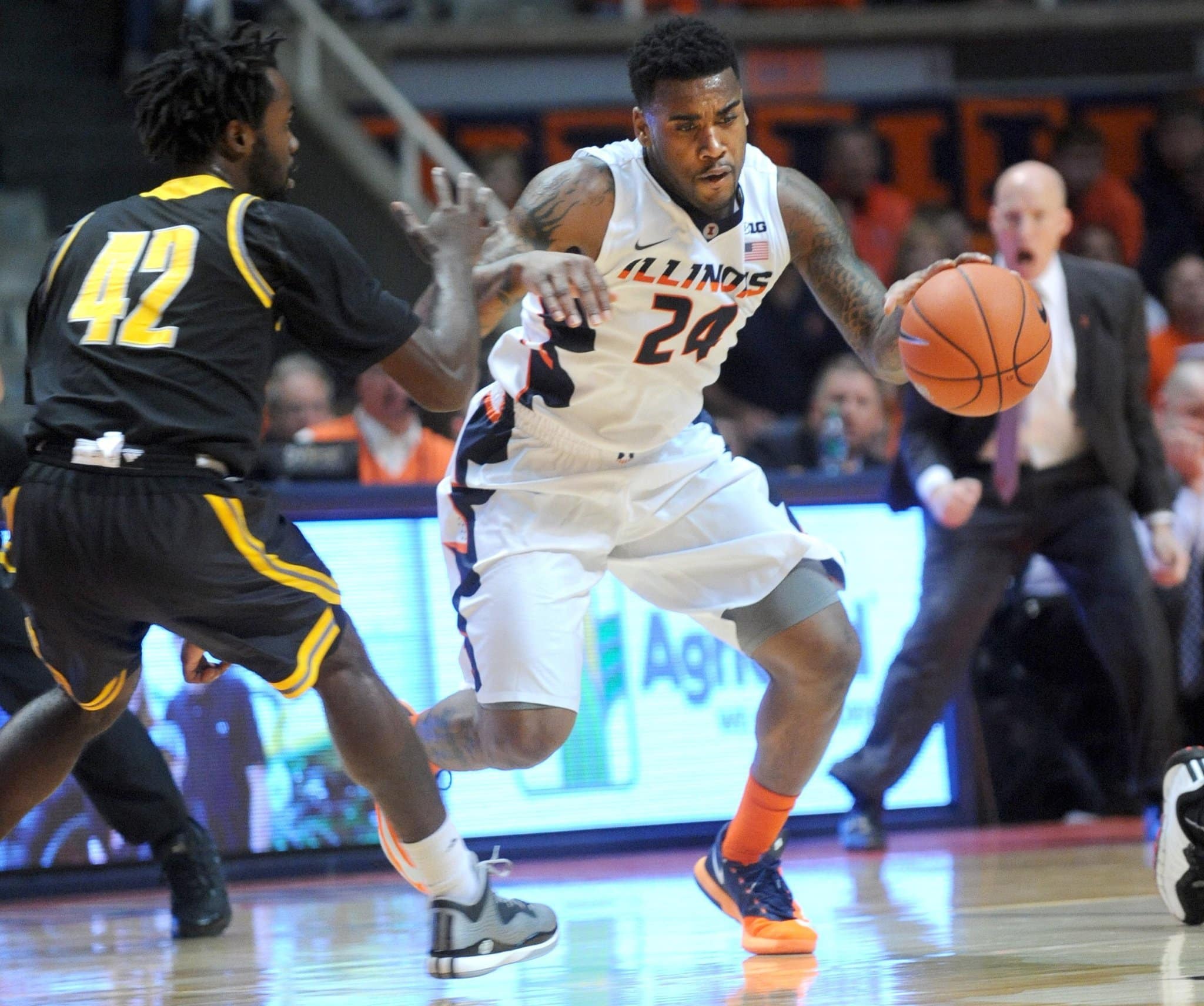 CHAMPAIGN- If things weren't already bad for the Illinois Fighting Illini basketball team, they just got worse. On Tuesday, Illinois head coach John Groce announced that Illini senior guard Rayvonte Rice will be out for an undetermined amount of time with a broken bone in his left hand. He's scheduled to have surgery on Wednesday after sustaining the injury in practice.
Rice is the Illini's leading scorer -17.2 points per game- which also makes him the Big Ten's sixth leading points man. He's also the teams best rebounder -6.9 per game- which puts him in the conference's top ten. Rice is "Mr. Everything" for this team, and losing him carries severe consequences.
The Illini (10-5, 0-2 Big Ten) were already pressed for offense when fellow senior guard Tracy Abrams tore his ACL back in October. The only other player on the team averaging double figures on the season is sophomore forward Malcolm Hill (13.1 PPG). The rest of the team has shown occasional offensive outputs but overall, Rice was a one man show.
Now there will be even more pressure on the other starting guards, sophomore Kendrick Nunn (8.7 PPG) and senior Ahmad Starks (7.3 PPG). You can also expect more minutes from sophomore Jaylon Tate (3.2 PPG), and junior Aaron Cosby (7.9 PPG). Coach Groce might also give an extended look to a seldom used guard in junior Mike LaTuliup (4.4 minutes and 2.8 points per game).
The only other guard on the roster is junior Alex Austin who's currently sitting out in accordance with NCAA rules after transferring from Eastern Illinois this season. Now more than ever the Illini will need breakout performances from their front line players, especially from senior center Nnanna Egwu and the aforementioned Hill.
Rice's surgery comes on the same day that the Illini host the 14-1 Maryland Terrapins at the State Farm Center. Focusing on that game will be easier said than done; but if Illinois loses focus, and if the rest of the talent on the team can't step up, the Illini just might fall to 0-3 in Big Ten play and lose their first home game of the season (7-0 so far).
Follow me on Twitter @GabeSalgado82
For More Great Chicago Sports Content
Follow us on Twitter at @chicitysports23 for more great content. We appreciate you taking time to read our articles. To interact more with our community and keep up to date on the latest in Chicago sports news, JOIN OUR FREE FACEBOOK GROUP by CLICKING HERE