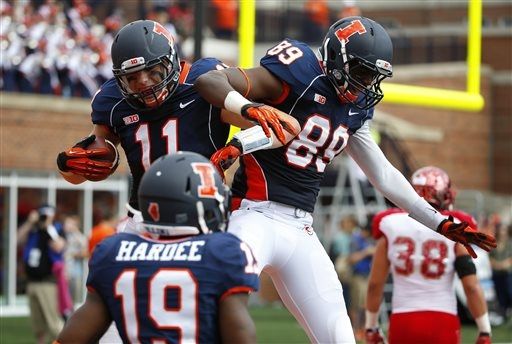 The Fighting Illini looked to make a statement against the 0-3 Miami (OH) RedHawks after losing to Washington at Soldier Field two weeks ago. Igniting for 50 points—Illinois did just that. After a slow first quarter, Illinois exploded for 29 second quarter points to take a 36-0 half time lead. The 36 first half points was the most for the Illini since 1983. The RedHawks would find some rhythm late, but Illinois held onto a comfortable 50-14 victory.
Senior quarterback Nathan Scheelhaase was once again at the center of the Illini's success, having himself another career day.
Scheelhaase found sophomore running back Josh Ferguson on five of the game's first six plays for 64 yards.
Scheelhaase would hit junior tight end Matt LaCosse in the back of the end zone for a two yard touchdown.
After managing only seven first quarter points, Scheelhaase threw four more touchdowns in the second quarter, finding LaCosse for a 45 yard score and fellow tight end Jon Davis for a four yard touchdown.
Scheelhaase tied an Illinois record throwing five touchdowns, all in the first half. Scheelhaase was benched after the first drive of the second half with the game secured.
"I felt like our guys we're doing a really good job of getting open on that second level," Scheelhaase said. "I think [Steve Hull] made a couple of great plays kind of jumping over guys. When you're confident in guys like that, it gives you more than just having to have a guy open—with a guy on him he's still able to go up and make a play and I think we have a few guys that can do that."
Scheelhaase finished with the five first half touchdowns and 278 yards to only five incompletions.
Tight end Evan Wilson joined the mix at the start of the second, making an athletic full extension touchdown catch in the back of the end zone.
"Thank goodness he's 6'7"," Illinois coach Tim Beckman said. "He got up and I thought he was going to hit his head on the upright, he got up so high. So I'm happy to see that. He's a big target—I think I might even have completed that one."
After Wilson's score, the Illini continued to put the pressure on the RedHawks with LaCosse catching a two point conversion and recovering an onside kick.
Illinois tight ends LaCosse, Davis and Wilson combined for four touchdowns.
"I told those guys, 'we're gonna use you, you're a vital part of this offense,'" Offensive coordinator Bill Cubit said. "Today was just another example of the guys, they're making plays—it's not like they're gonna be a 40 catch guy, but they made some pretty big catches so far early in the season."
LaCosse was happy to see his fellow tight ends join him in the end zone.
"It's great, it makes it that much better," LaCosse said. "I'd much rather have that than me having four touchdowns any day just because everyone gets a piece of it. It's exciting, it's a lot of fun."
Early in the second quarter, Scheelhaase found Ferguson again on a screen pass. The elusive back made three RedHawk defenders miss on his 15 yard scamper to the end zone. The play had the 46,890 fans in attendance up on their feet.
"It was a quick little screen, slipped out a tight end to block, got around the block, and I knew it was just me and that one guy so I just gave him—something," Ferguson laughs. "Honestly I didn't even think about what I was doing I just did it and I got by him, it was awesome."
Ferguson finished with 71 rushing yards and 77 receiving yards and got the second half off.
Ferguson leads all FBS running backs with 262 receiving yards on the year.
Towards the middle of the first,the  Illinois offense got creative, with junior quarterback Reilly O'Toole and freshmen quarterback Aaron Bailey sharing the field for two drives.
Bailey took the snap on the first play for a 14 yard run and on the next play threw a lateral to O'Toole, who connected on an eight yard pass to Spencer Harris.
"That's what we do," Beckman said. "We had some trick plays offensively, I guess [Bill Cubit]'s got three DVDs full of them, somebody told me. We talked as a team, it wasn't a shocker—they knew exactly when we were gonna do it."
Both Bailey and O'Toole conducted drives late in the game, with Bailey scoring on a six yard run.
Miami senior Austin Boucher and freshman Austin Gearing also split time at quarterback, but passing wasn't their point of emphasis.
The two quarterbacks combined for 23 rushes for 94 yards and went 7-15 throwing the ball for 95 yards.
Both quarterbacks ran read option after read option making the Illini defense think quickly on their feet and decide whether to dive in and attack the quarterback or contain the running back. The method wasn't particularly effective with no threat of a throw, even when the team was down big.
Late in the third, after driving the ball down the field with an assortment of runs, the RedHawks were setup at the goal line in a 4th and 1 situation.
Boucher found freshmen Rokeem Williams in the back of the end zone for a one yard score. Williams appeared to have possession of the ball for only a moment until Illinois cornerback Jaylen Dunlap knocked it away.
The stadium was baffled when the play not only stood but was confirmed by the officials after the review, getting the RedHawks on the board.
Illinois won its third game of the season, elapsing last season's win total through four games this year. With their non-conference slate behind them, the Illini will head to Lincoln to take on Nebraska in their Big Ten opener.
Illinois will look to claim their first Big Ten win since winning 38-35 over Northwestern on October 1st, 2011.
For More Great Chicago Sports Content
Follow us on Twitter at @chicitysports23 for more great content. We appreciate you taking time to read our articles. To interact more with our community and keep up to date on the latest in Chicago sports news, JOIN OUR FREE FACEBOOK GROUP by CLICKING HERE