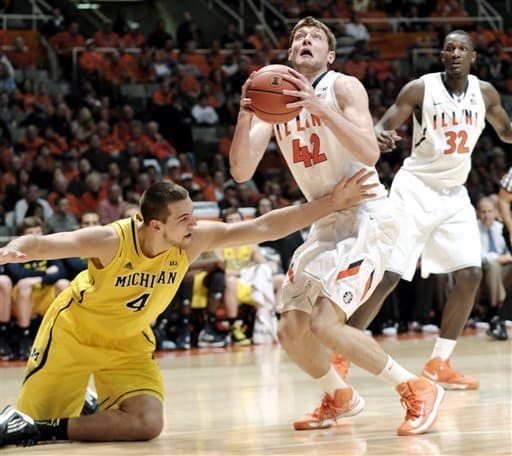 With the No. 2 Michigan Wolverines in town, Assembly Hall was packed with Illini fans. Within the games first seconds, a big time slam by Illinois sophomore big man Nnanna Egwu got the stadium rocking. Unfortunately for the Champaign faithful in attendance, inside points were at a premium for the Illini. Illinois was outscored 42-32 inside and couldn't keep their three-point shot alive, as they fell to Michigan 74-60.
It took nearly five minutes for National Player of the Year candidate point guard Trey Burke to get on the board for Michigan, but once he got it going everything came together for the Wolverines.
Burke wasn't short on providing big time shots time and time again, as he continued to pour it on the Illini from both outside and inside. Burke finished with 19 points, 5 rebounds and 5 assists.
Michigan got out to an early eight point lead with 11:38 left to play in the first half and never really ever relinquished the lead for an extended period of time.
The Wolverines answered every one of the Illini's runs as their patented feast or famine three-point attack was once again their demise. Despite struggling from outside, Illini coach John Groce was happy with his team's shot selection.
"I thought our quality of shot was really good," Groce said. "I thought we had some great looks, I thought we got some things that we wanted to get in preparation for the game, and we just missed a couple of them."
Groce believes his team's struggles start on the defensive end.
"I'm more concerned with how we defend when things aren't going well or are going well on the offensive end," Groce said. "We gotta be a little bit more unconditional at that end of the floor."
The Wolverines benefited from balancing scoring, finishing with four players in double figures.
Illinois got in touch with their best friend and worst enemy, the three-point shot, after senior guard Brandon Paul hit a three-pointer just over two and half minutes into the game. The Illini's three-point shot kept them in the game early, as they made three 3's just a quarter into the contest.
Illinois continued to launch from three, only connecting on two more three-pointers on nine attempts for the rest of the first half. Illinois only made one more three-pointer for the remainder of the game.
Egwu believes the team has to just keep shooting and keep their heads up.
"We have some great shooters on our team," Egwu said. "One thing with shooters is you gotta keep shooting the ball, you can't get down on yourself. You have to have confidence, it's eventually gonna knock down."
Once Illinois started to attack inside they finally made progress, cutting the lead to 41-37 after a drive by sophomore point guard Tracy Abrams. However, the run was short-lived, as the Wolverines once again continued to benefit from second chance points and easy buckets in the paint.
The Wolverines pulled out to a 50-37 lead after a 9-0 run capped off with a Burke jumper.
The Illini once again cut the deficit to within seven with 9:17 left to play, but Michigan quickly answered with four straight points of their own to pull the lead back out to double digits, which was pretty much the story of the night.
Michigan was ignited by the play of their three highly-touted freshmen Nick Stauskas, Glen Robinson III, and Mitch McGary. Stauskas and Robinson III combined for 26 points from the wing and McGary was a pest inside, grabbing eight boards and finishing with six points.
With the win, Michigan improves to 19-1 and will almost certainly move up to the No. 1 team in the nation when the rankings come out tomorrow. Michigan coach John Beilein isn't concerned about his team's potential No.1 ranking.
"It's January 27th," Beilein said.  "Not one of you in here can remember who was number one last January 27th, so to our team that really does not make a big difference."
He went on to add, "I'm sure a lot of our fans in water coolers and coffee shops and people who love Michigan and hate Michigan that's probably something they hate or they love right now," Beilein said. "Our big thing is let's keep getting better every day."
With the loss Illinois has lost four of their last five games and fall to 2-5 in the Big Ten. With four potential ranked opponents in a row coming up, things don't look to be getting any easier for the Illini.