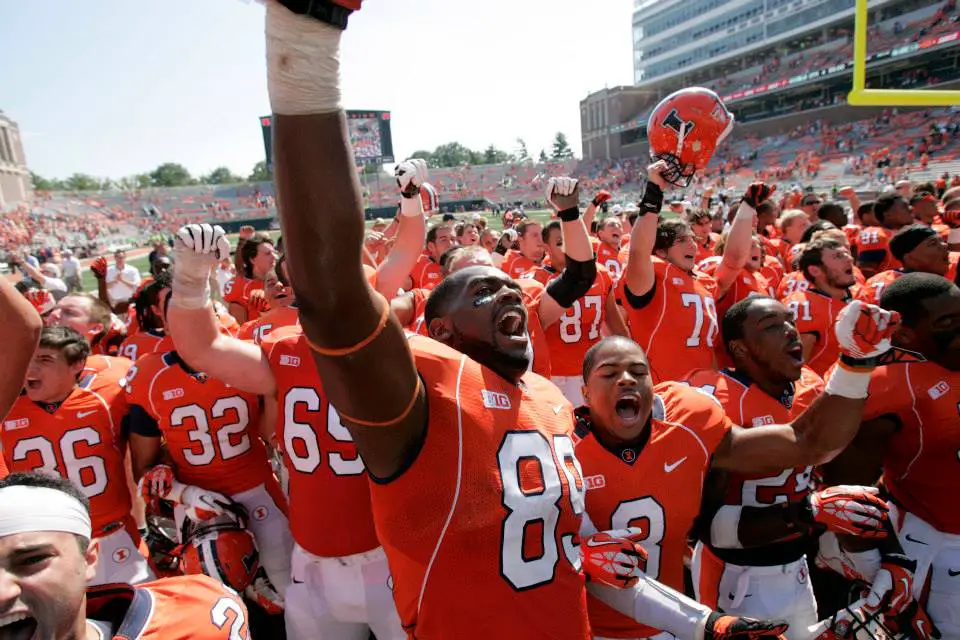 This weekend Soldier Field will showcase an up and coming, overachieving team with a new offensive attack. Not Marc Trestman's Chicago Bears, but the 2-0 Fighting Illini.
Under new offensive coordinator Bill Cubit, the Illinois offense went off for 45 points against Cincinnati last week. The Washington Huskies will look to spoil the Illinois homecoming with their own offensive explosion.
Like the Illini, the Huskies have gotten off to a surprising start. Washington got some payback for their 28-26 loss to Boise State in the MAACO Bowl last season, blitzing the Broncos to a 38-6 final. The Huskies handed Boise State coach Chris Peterson his worst loss in seven seasons.
"Any time you have a team that goes out there and kind of dominates Boise State like that, that really doesn't happen too much," senior quarterback Nathan Scheelhaase said. "If you looked at Boise State over the last four or five years it doesn't happen a lot."
"They're pretty explosive," senior linebacker Jonathan Brown said. "I watched the Boise [State] game, they like to get the ball on the edge, they like to space the defense out and try to crease them in the middle, whether it be with a power, or a zone, and they can really turn a small play into a dynamic play, something I don't think we've really seen up to this point."
The Huskies were 7-6 last season, but won four of their final six games. Despite an overall disappointing season, Washington remained competitive, beating two top ten opponents in No. 8 Stanford and No. 7 Oregon State.
The Huskies run a fast-paced, no huddle attack. Washington has familiar faces on offense lead by senior quarterback Keith Price, junior running back Bishop Sankey, junior wide receiver Kasen Williams and All-American junior tight end Austin Seferian-Jenkins.
As a sophnore, Bishop led the team with 1,439 rushing yards and 16 rushing touchdowns and was third on the team with 33 receptions.
Bishop rushed for 161 yards and two touchdowns in his 2013 debut.
This Saturday Seferian-Jenkins will make his debut after serving a one-game suspension for pleading guilty to a drunk driving charge in July.
Seferian-Jenkins is a preseason All-American and was second on the team with 852 receiving yards and first on the team with seven receiving touchdowns a year ago. The team didn't need the 6'6," 275 pound tight end against Boise State, but his addition adds another threat to an already dangerous offense.
Brown has a game plan to stop Washington's no huddle offense—now he just has to execute.
"Just getting the call in, getting lined up, recognizing formations, because that's something as a defender you gotta do," Brown said. "You gotta recognize where everyone is on the field and that's something the pace kind of neutralizes—the thinking of the game."
After allowing 34 points against Southern Illinois, defensive coordinator Tim Banks tried to switched things up against Cincinnati by subbing in six different players at the outside linebacker and star positions. After holding the Bearcats to 17 points, the strategy appeared to payoff.
"We made some strides from the first game to the second," Banks said. "I don't think we had any repeat mistakes, but obviously there were still some mistakes in this game, so we gotta get those things corrected and move onto the third game and hopefully not make the same mistakes."
With the No. 19 ranking in the AP Poll, Washington is slated as the Illini's first ranked opponent of the season. Illinois has lost five straight and 14 of their last 15 games against ranked opponents since beating No. 1 Ohio State 28-21 on Nov. 10, 2007.
Illinois went 0-2 against ranked opponents last year against No. 25 Michigan and No. 6 Ohio State, losing at a combined score of 97-22.
Coach Tim Beckman is 0-6 against ranked opponents.  Recent history isn't exactly on the Illini's side, but this isn't the first time these two teams have faced off against each other.
The Fighting Illini, led by the legendary Dick Butkus, topped the Huskies 17-7 in the 1964 Rose Bowl. Nearly 50 years later, Butkus will once again take the field in the series—this time he'll be doing the coin toss.
History and rankings will mean nothing when the two teams meet in Chicago on Saturday. What will matter is who steps up.
So far, Illinois has done just that.
"We did the things we needed to when the time was called," Scheelhaase said. "When we needed a fourth down stop by the defense that's exactly what they came up with. When we needed a 99 yard drive by the offense that's exactly what happened. When we see a team that starts to capitalize when the moment and opportunities are there, that's something that speaks volumes into where we're trying to go as a program."
For More Great Chicago Sports Content
Follow us on Twitter at @chicitysports23 for more great content. We appreciate you taking time to read our articles. To interact more with our community and keep up to date on the latest in Chicago sports news, JOIN OUR FREE FACEBOOK GROUP by CLICKING HERE