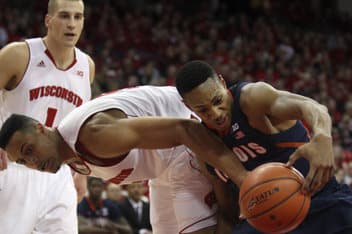 The Fighting Illini are not heading into March Madness with a ton of momentum. They are not ranked. And their performance in conference play was unimpressive to say the least.
Illinois was a mere 8-10 in the Big 10. That put them at seventh in the conference overall. And they finished the season losing three of their last four. But do they have a chance to make some noise?
Sure, their performance in the Big 10 was unimpressive, but let us not forget that this is the Big 10 that is widely regarded as the best conference in college basketball. And this is also the same Illinois team that started the season 12-0.
Illinois may be lacking an impressive overall record, but one thing they are not lacking is quality victories. The Fighting Illini have managed to beat Butler, Gonzaga (the number one ranked team in the nation), Minnesota, Indiana, and Ohio State.
Those wins are nothing to scoff at. Such quality victories will be enough to not only guarantee them a spot in the NCAA tournament, but likely a spot as high as an eight-seed.
Once there, Illinois should not be overlooked as a team that could do some bracket busting. It's true that their offense is nothing to write home about. In fact, they don't rebound well and they lack a true creator. But they play very solid defense and manage to control the tempo of the game.
The X-Factor for Illinois will be the play of senior guard Brandon Paul. He is widely overlooked in most conversations about the best players in the nation. This is probably because he has had his moments of inconsistency.
But it's no coincidence that when you look at the Illini's most impressive wins and you'll notice that Paul showcased some of his most impressive performances. In victories over Butler, Gonzaga, Ohio State and Indiana Paul scored 20, 35, 19 and 21 points respectively.
The lesson? When Brandon Paul is playing well the Illini can compete with the best teams in the country.
The game typically slows down a little bit in the tournament and that will play right into Indiana's style. They may not be able to get out and run with some of the best teams, but they can play enough quality defense to keep things close until the final minutes. And from there, who knows what can happen.