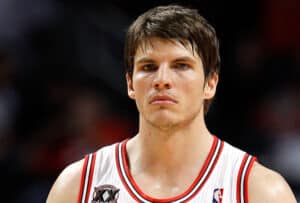 While the timing of this article may seem odd considering Chicago Bulls forward Kyle Korver's performance Monday against the Washington Wizards, I do not want a single game to cloud the big picture.
Korver has played poorly for the Bulls this season.
While Carlos Boozer gets much of the criticism (and justifiably so) very few people seem to be looking at Korver and his lack of performance off the bench.
Of course, expectations for Boozer were much higher as a starter and the Bulls big free-agent splash last offseason, but Korver came with expectations as well.
Those expectations were not 20 points and 15 rebounds every night that Boozer had but they certainly were more than 6.5 points per game and 42 percent from beyond the arc.
This is not a fluke either; Korver struggled last season as well.
He was able to increase his points per game from 7.2 as a member of the Utah Jazz in 2009-10 to 8.3 last season; but he did so at a much less efficient rate.
Korver shot a stunning 53 percent from the three-point line with the Jazz and while that percentage was unsustainable, a plummet to 41 percent should not have happened.
Over 69 percent of Korver's total shot attempts are threes, which is not an issue given Korver's skill set. Regardless, he has to be more efficient from the outside.
Korver severely lacks options to his offensive game. He cannot dribble, cannot penetrate and struggles ever creating his own shot.
If his initial look breaks down, Korver has trouble passing out of tight defenses or finding another option on the floor.
Where I believe Korver struggles most is defensively.
This was especially evident Sunday against the Miami Heat as Korver blew multiple assignments leading directly to big shots by Heat guard Mike Miller.
For a fanbase so eager to crucify Boozer for his lack of defensive prowess (again justifiably so), Korver seems to get a free pass.
Korver routinely struggles moving his feet, too often playing defense with his arms and has issues battling through screens, especially backdoor.
I do not expect Korver to be a defensive stopper like Luol Deng or Ronnie Brewer, but his defensive breakdowns are just as galling as Boozer's. I would like to see both of them take a more serious approach to that end of the floor.
I have faith that Korver can be a valuable asset to the Bulls. His performance Monday night showed just what he is capable of when hitting shots at a high percentage.
Despite these solid performances as of late, I can help but be somewhat disappointing by what Korver has given the Bulls this season.