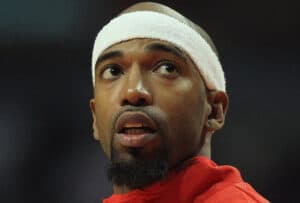 There is no question Richard Hamilton's first two games as a member of the Chicago Bulls have been disappointing.
Can we attribute this to early-season rustiness, a lack of familiarity with the rest of his team or was Hamilton just not as good of a fit with the Chicago Bulls that many—myself included—thought?
Hamilton was supposed to seamlessly transition into the Bulls' rotation and give Chicago the best starting five in the NBA.
That is still a possibility, but we may have to temper expectations.
Hamilton has struggled finding his spot in the Bulls' offense. While he showed aggressiveness last night against the Golden State Warriors, scoring 10 points in the first half, Hamilton soon found himself completely lost in the second half and did not play the last 16 minutes of the game.
The entire Chicago Bulls offense seems out of sync, and much of that may come from a lack of familiarity with Hamilton.
"Rip" appears unsure thus far what his exact role is, and the offense appears much more fluid with Ronnie Brewer in the lineup.
Defensively, Hamilton has looked sharp despite getting himself in early foul trouble. His defensive rating (estimate of points allowed per 100 possessions) of 105 is actually the best he has had since 2004-2005.
The issue still lies with Hamilton's fit in the Bulls' lineup.
Hamilton is averaging only 12.3 points per game, but most troubling is Hamilton's lack of three-point presence.
Not only has Hamilton yet to make a three-pointer this year—he has only attempted one.
For the Bulls to reach a championship level, Rip needs to make noise beyond the arc. Hamilton has only taken 1.7 three-pointers per game over his career, but has upped that total to 2.6 in the past four years.
One of the key components Chicago needs this year out of the shooting guard spot is consistent and efficient three-point shooting. It is unacceptable for Hamilton to have only one attempt thus far.
Equally as troubling, Hamilton has yet to reach the free-throw line this season. This has been a team-wide problem in the Bulls' first two games, but for someone who has reached the line at a relatively above-average rate his entire career, you would like to see Hamilton be more aggressive.
I do not want to panic after two games; I still feel Hamilton and the Bulls will find rhythm offensively.
While there are numerous troubling aspects of Hamilton's game thus far—including his three-point shooting, free-throws attempts and general sync—I am not too worried.
The key is to remember that we are looking at a very small sample size in a lockout-shortened season that resulted in a less than desired amount of training camp time for all teams.
Someone like Hamilton, who signed relatively late in the free-agency period, has very little time to practice with his new team.
In a perfect world, Hamilton would seamlessly transition into the Bulls' offense, but that does not appear to be happening. It was unrealistic to expect this.
However, I am confident that with Hamilton's experience and head coach Tom Thibodeau's expertise, Rip will eventually fit into the Bulls' lineup quite well.
It will just take longer than originally expected.
For More Great Chicago Sports Content
Follow us on Twitter at @chicitysports23 for more great content. We appreciate you taking time to read our articles. To interact more with our community and keep up to date on the latest in Chicago sports news, JOIN OUR FREE FACEBOOK GROUP by CLICKING HERE