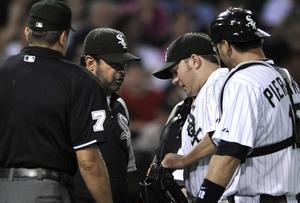 Jake Peavy played catch on Sunday and is aiming to start against the Angels on Wednesday, with a side session in between, Peavy said, "I do want to bring some enthusiasm, some fire, some passion, I certainly think the ballclub could use a shot in the arm". Peavy went 1-1 with a 5.09 ERA and walked 2 In 23 innings over 5 minor league starts between AAA and AA. The question is who will be optioned to the minors and whose spot will Peavy take in the rotation?
The obvious moves would be Jeff Grey to the Minors and Humber to the 'pen but both have pitched well and with Tony Pena suffering from "elbow discomfort" the Sox need the help in the 'pen and Humber has the spot in the rotation with a 2.97 ERA.  The other option is a 6 man rotation.
Sox Manager Ozzie Guillen called the decision" a very delicate one" and said the Sox would need to "be careful how we are going to do it and when."
My feeling is that the Sox will use the 6 man rotation and will look to trade a starter and Jeff Grey will be the odd man out in this case with Pena appearing to be ok. The 6 man has been discussed in the past but has been dismissed due to the fact that pitchers are creatures of habit and the extra day off would undoubtedly throw off their routines but this time now other viable option appears clear.
Check out Pale and Hosed, the #1 Chicago White Sox Podcast for more analysis on this and more!!! New episodes every Monday and Friday.
For More Great Chicago Sports Content
Follow us on Twitter at @chicitysports23 for more great content. We appreciate you taking time to read our articles. To interact more with our community and keep up to date on the latest in Chicago sports news, JOIN OUR FREE FACEBOOK GROUP by CLICKING HERE