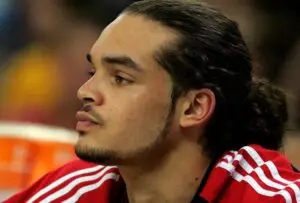 This is not easy to do, but it is time for Chicago Bulls fans to face the facts about Joakim Noah and really begin to question what exactly is going on with his game.
Noah, once the heart and soul of the Bulls team, now finds himself the subject of numerous "What's Wrong?" columns; more importantly, he's finding himself on the bench far more than at any point past his rookie campaign.
Noah is seeing his numbers take a free fall, dropping over three points per game while his rebounding is also down nearly three a game. Noah is shooting at a career-worst 39 percent and has not looked anywhere near the capable defender we have seen in previous years.
What is wrong with Noah?
Comcast SportsNet Chicago's Mark Schanowski claimed on The Score 670's McNeil and Spiegel Show today that many of the issues might arise from his relationship with frontcourt mate Carlos Boozer.
 "I think one of the issues is that he's getting into a lot of early foul trouble because he's trying to help his buddy (Boozer) out. (Boozer) won't move his feet, so Joakim is getting a lot of fouls…(Bulls head coach Tom) Thibodeau, who demands constant, outstanding work from everybody else, doesn't seem to do it as much with Boozer. I think that probably causes some friction."
Schanowski may be correct, but to me that sounds more like throwing an easy target like Boozer under the bus at the expense of one of Chicago's beloved sons.
Perhaps there is some resentment playing alongside Boozer but that is hardly an excuse for career-worst shooting numbers.
Noah's issues have become far more than foul trouble. Offensively, Noah has not improved. We saw a newly motivated Noah jump his points per game to 10.7 and 11.7 in the past two seasons, but beneath those decent scoring totals was a man who still had no offensive game.
Noah's points were largely a byproduct of hustle points, points off offensive rebounds, alley-oops and wide-open dunks created by dribble penetration. Outside of a decent 15-footer off a screen roll, Noah simply has no "moves."
Just try to remember the last time you saw Noah pull off what you would consider a move. You really cannot.
Worse yet than no longer improving, Noah has regressed. He seems to be having issues holding onto the ball, likely stemming from his thumb injury last season.
Even if it is injury-related, it is becoming obvious that Noah is not the player he once was and the Chicago Bulls need to think where he fits in their rotation. If his thumb is still not healthy, give him some additional time off.
Would they be better suited starting an improving Omer Asik? If a team does happen to call about Noah in a potential deal, do you jump at the chance?
I think we are far away from an amnesty cut. Despite Noah's overvalued contract, he's not quite amnesty territory yet, however I think Bulls fans and Thibodeau need to seriously look at shaking up the frontcourt.
If the Bulls continue to sit and wait for the Noah of old to arrive, they are not guaranteed he's ever going to arrive.
This is a team with championship aspirations; they do not have time for reclamation projects.
For More Great Chicago Sports Content
Follow us on Twitter at @chicitysports23 for more great content. We appreciate you taking time to read our articles. To interact more with our community and keep up to date on the latest in Chicago sports news, JOIN OUR FREE FACEBOOK GROUP by CLICKING HERE