As the starting quarterback for the Chicago Bears, Cutler is going to face a lot of scrutiny regardless of what he does. He was blasted by Rick Reilly for not answering questions about the countless charity work he does. This time it's about his on-field toughness.
Cutler is being criticized by a lot of players and fans about his toughness. The extent of his knee injury isn't known but his fellow teammates are defending him, along with Lovie Smith.
On Twitter, Jones-Drew and Dockett were among several players who commented on Cutler's status.

Said Jones-Drew: "Hey I think the urban meyer rule is effect right now… When the going gets tough……..QUIT.. … All I'm saying is that he can finish the game on a hurt knee… I played the whole season on one…"
Said Dockett: "If I'm on chicago team jay cutler has to wait till me and the team shower get dressed and leave before he comes in the locker room!"
Darnell Dockett and Maurice Jones-Drew, you asshats have no room to discuss anything as you watched the game FROM YOUR HOUSE. Trent Dilfer also openly criticized Cutler (no surprise there) but I don't want to acknowledge Dilfer's existence.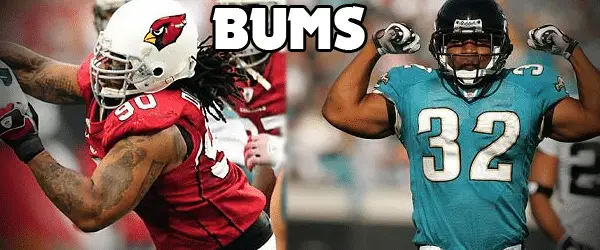 If Aaron Rodgers wants to question his toughness, his opinion is valid. He played in the NFC Championship game against him. Jones-Drew and Darnell Dockett watched from their house and both of their teams failed to make the playoffs.
If anybody is going to criticize a franchise Quarterback, can it please come from a player whose team actually made the playoffs?
I have a hard time trying to fathom players why players like Jones-Drew and Dockett feel the need to blather about their opinions on Twitter. Jay Cutler could have fallen over from the wind and came out of the game, and still has more room to speak then these asses.
I have held off judgement until the extent of his injury is known. Some have brought up how Phillip Rivers played with a Torn ACL in the AFC Championship game a couple years ago, the only part they aren't adding…..the Chargers lost.
For More Great Chicago Sports Content
Follow us on Twitter at @chicitysports23 for more great content. We appreciate you taking time to read our articles. To interact more with our community and keep up to date on the latest in Chicago sports news, JOIN OUR FREE FACEBOOK GROUP by CLICKING HERE