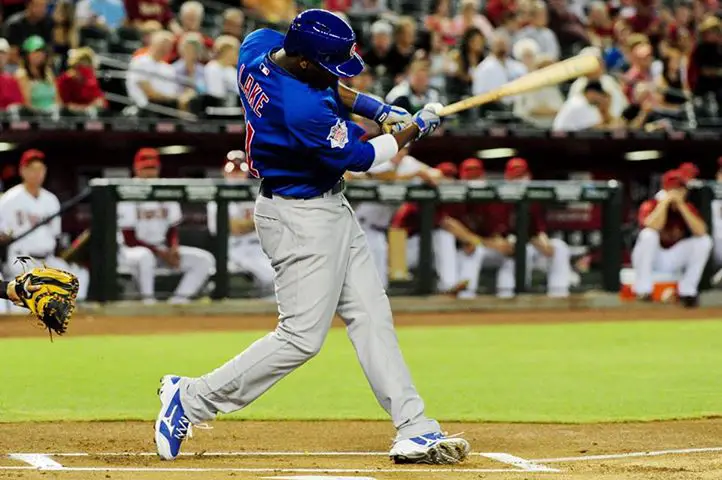 While most of the team failed to strike while the iron was hot, rookie Junior Lake went back to the basics to keep his hit steak alive.
The Cubs couldn't muster up much against Wade Miley and the Diamondbacks so Lake resorted to fundamentals. With his speed and a bobble from Miley, he managed to bunt his way to first and extend his hit streak through the first seven games of his career, the first Cub to do so since Jerome Walton in 1989. It would be his 15th hit and the first player to snag that many in seven since George Kelly in 1930.
That and a solid effort from the Cubs' exhausted bullpen summed up the bright spots from tonight's battle in the desert. Michael Bowden and Blake Parker put up three scoreless for Chicago, Bowden allowing the lone hit.
Cubs starter Carlos Villanueva did post strong numbers (3ER, 6H, 5K) despite taking his seventh loss on the year. Arizona got to him early, sending him straight to work in the first. After walking Adam Eaton, Villanueva gave up an RBI double to Aaron Hill. He then walked Jason Kubel and Gerardo Parra but got out just down one.
In the fourth, Cliff Pennington would score Arizona's second run after doubling down the left-field line to score Wil Nieves who doubled moments before. Aaron Hill would get his second RBI of the night after homering to left (5) in the fifth, adding on to the Diamondbacks' lead 3-0. Villanueva would end the inning and the night.
Wellington Castillo would double home Cole Gillespie in the seventh off Miley but that was all the Cubs were able to bat in. They hit three lead off doubles and squandered opportunities with RISP (1-for-7) in the 6th, 7th, 8th, and 9th innings.

Cubs look to some new scenery when they begin their series against the San Francisco Giants. Edwin Jackson (6-11, 5.03) will face Matt Cain (6-6, 5.00) at 9:15 PM CST at AT&T Park.