If you're going to be fined for something, this is it! Bears Linebacker Lance Briggs intends to wear Red, White, & Blue cleats & gloves during the Bears season opener against the Falcons. The week 1 game falls on the 10th anniversary of the September 11th attacks. Major props to Briggs for doing this.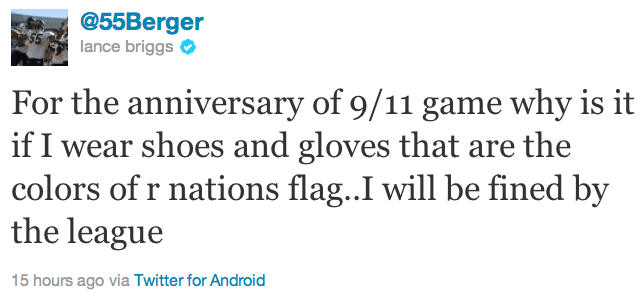 A lot of fans are excited and happy about Briggs' decision to wear the red, white, and blue on Sunday. Briggs approval rating has jumped somewhat after he informed the Bears he wished to seek a trade.
This leaves Bear fans unsure of how to feel towards Briggs. Part of me wants to tell the guy to kick rocks, and part of me wants to shake his hand for being awesome.
I am excited to see Briggs' dawning the red, white, and blue because they look kick ass!
UPDATE: NFL has announced they will not be fining players. However an interesting point brought up is that just a week ago Briggs was demanding a raise or be traded. Yet, he scoffs at the idea of paying what he thought would be a fine. Hmmmm……..
Is Briggs being an attention whore? Let us know in the comments.
For More Great Chicago Sports Content
Follow us on Twitter at @chicitysports23 for more great content. We appreciate you taking time to read our articles. To interact more with our community and keep up to date on the latest in Chicago sports news, JOIN OUR FREE FACEBOOK GROUP by CLICKING HERE