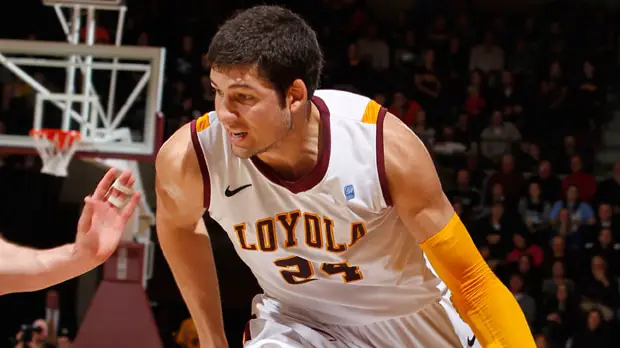 As Loyola looks to take the next step with their basketball program they must do so without one of the most beloved Ramblers players. Long time forward Ben Averkamp (2009-2013) has entered life after college and now head coach Porter Moser must find a way have consistency on the floor without him. It is simple to replace him physically, but replacing Averkamp's numbers will be the hard part.
The 6-8 native of Germantown, Wisconsin averaged 15 points, 7 rebounds and 30 minutes per game. He also shot for well over 400-percent from the field and his leadership was second to none. Losing Averkamp has forced Moser to change is starting lineup. Last year No. 24 was the only forward on the floor, surrounded by guards Cully Payne (graduated), Jordan Hicks (graduated), Joe Crisman and Devon Turk.
This year, the Ramblers will send out two forwards with three guards (Crisman, Turk and Jeff White). The two forwards that will start are players that contributed big time off the bench last year. The first of which will be sophomore Nick Osborne. The native from Muncie, Indiana appeared in 31 games last season.
He was Averkamp's backup and took over his starting role for a time when Averkamp was out with a concussion. His 6-8 frame will give the Ramblers good size in the post. The other forward will be junior Christian Thomas. Averaging 12 points and six rebounds off the bench last season, Thomas will provide both size and good perimeter play.
With new starters on the floor Coach Moser is bound to roll out new players from the bench. This means that we will an even better look at sophomore Matt O'Leary who played in just about every game last year. We'll also see more from sophomore Tanner Williams, as well as sophomores Cody Johnson  and Jeremy King who both stand in at 6-10 a piece.
It may be hard at first to just to life without Ben Averkamp, but if all goes well for Loyola it could be exciting. Follow me on Twitter @GabeSalgado82
For More Great Chicago Sports Content
Follow us on Twitter at @chicitysports23 for more great content. We appreciate you taking time to read our articles. To interact more with our community and keep up to date on the latest in Chicago sports news, JOIN OUR FREE FACEBOOK GROUP by CLICKING HERE