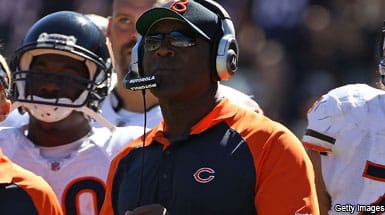 It's hard to believe I have actually typed those words, but I did, and I'm not the only one. What has happened this season, whether it has been pretty or not, has to have Lovie Smith in the discussion for the honor of Coach of the Year, and I'm sure it brings mixed emotions to Bears fans all over.
Prior to the season, the Bears hadn't been given much respect in the minds of the prognosticators:
Fox Sports (6-10) – "Mike Martz says he is committed to the run. If you believe that, I have an island to sell you in the Caribbean."
NY Times blogger Andy Benoit (7-9) – There's too much talent here for this team to fail completely, but there are also too many flaws (offensive line, receiving corps, Martz's system, secondary) for it to succeed.
Clark Judge CBS Sports (7-9) – "…I think Chicago is much closer to fourth than it is second."
Bill Simmons ESPN (3-13) – "…Rams, Bills, Broncos, Seahawks, Bucs and Bears as the league's doormats…"
Don Banks Sports Illustrated (5-11) – "…there was something entirely listless and directionless about the 0-4 Bears this summer, and I do believe that bodes for big trouble in Chicago."
ESPN didn't have one expert who had the Bears finishing any better than third in the division, and Adam Schefter even had them finishing behind the Detroit Lions.
Instead, the Bears are 9-3, and depending on which week it is, they seem to be real contenders in the NFC.
How has this happened?
Well, take a bit of luck, add some really good timing, and finish it off with some really good coaching.
We haven't really got the full story yet, but if it was Lovie who finally got to Mike Martz, something that couldn't be done in Detroit and San Fransisco, the change has worked, and has led to a much more impressive Jay Cutler and in turn a five game win streak. Since the bye week, and following two troublesome losses to the Redskins and Seahawks, Jay Cutler has completed 90-137 passes for 1,062-yards, 10 touchdowns and three interceptions.
On the ground the Bears have averaged 123-yards per game in their last five as opposed to just 88 ypg in their first seven. If you take away the 218 yards day against the lowly Carolina Panthers, the Bears averaged just 66 ypg prior to the bye. This is hardly the Martz one might have expected to see, with so much emphasis on the ground game, and as Dan McNeil wrote in the Chicago Tribune,
"It all goes through the head coach. Martz was Smith's hire. If Martz has improved, Smith gets some credit for that."
On the defensive side of the ball, the turn around has been even more impressive. In 2009 the Bears were woeful on defense. I still have nightmares of 3rd down conversions, the Cincinatti Bangals and the Cardinals. Now they have a healthy Brian Urlacher, and with him, Lance Briggs and Pisa Tinaisamoa the Bears have arguably the best set of 4-3 linebackers in the NFL.
| | | | | | | | | | | |
| --- | --- | --- | --- | --- | --- | --- | --- | --- | --- | --- |
| D Rankings | 2006 |   | 2007 |   | 2008 |   | 2009 |   | 2010 |   |
|   | No. | Rank | No. | Rank | No. | Rank | No. | Rank | No. | Rank |
| YPG | 289.1 | 5 | 354.7 | 28 | 334.7 | 21 | 326 | 15 | 300 | 3 |
| PPG | 15.9 | 3 | 21.8 | 17 | 21.9 | T-16 | 23.9 | 22 | 16 | 3 |
| Rushing YPG | 99.4 | 6 | 122.9 | 24 | 93.5 | 5 | 119.5 | 21 | 84.9 | 2 |
| Passing YPG | 194.8 | 11 | 231.8 | 27 | 241.2 | 30 | 206.5 | 12 | 215.4 | 14 |
| 3rd down pct. | 31 | 2 | 33 | 2 | 35 | 5 | 42 | 25 | 31 | 1 |
| Sacks | 40 | T-8 | 41 | 6 | 28 | 22 | 16 | 23 | 25 | T-14 |
| Ints. | 24 | 2 | 16 | 17 | 22 | T-3 | 8 | T-10 | 16 | T-4 |
| Forced fumbles | 20 | 1 | 17 | 4 | 10 | 16 | 6 | 10 | 14 | T-7 |
The addition of Julius Peppers and the rise of Israel Idonije and the play of the secondary have allowed the Bears to play more of the often hated Tampa-2, a system they and the coaches know well, and they are playing it as well as they have since 2006.
How about the Bears tackling? Yesterday aside, this team is tackling as well as I can remember any team tackling. It's solid, it's fundamental, and it all goes back to coaching. It all goes back to Lovie Smith.
Let me state this: I am not a Lovie Smith fan. But I also don't despise him. All I am interested in is winning football, and right now it is Lovie Smith and his trio of ex-head coaches that are getting the job done with what many thought was a group that would battle for the cellar of the NFC North. Let's not underestimate the ability of Smith to do a couple of things this season.
A) He has made the Mike Martz experiment work when many thought it never would. B) His players love him. Though I can't speak to this from any of my own knowledge, I have heard and read enough to believe this to be fact. C) He has manged to contain the egos of three ex-head coaches and make that situation work. Rod Marinelli is commanding the defensive line, Mike Tice the offensive line, and Martz the offense. Credit has to be given there. D) He has the Chicago Bears sitting atop the NFC North at 9-3.
He may not be much to watch in the post-game, and the meatball fans may want to see a tirade here and there when the chips are down, but Smith has done what I didn't think he could do, and from what I can tell, not many "experts" thought he could do, and that is win with a junk offensive line, no prototypical number one wide receiver, little running game if any for most of the season, a volatile and often hard to work with offensive coordinator, and what many think is a quarterback who will never be considered a "winner." Most didn't believe they were deep enough in the secondary, and that the defensive line was less than stellar. Instead, see what Charlies Tillman has done in 2010, what about Tim Jennings, Danieal Manning? How about D.J. Moore?
Winning ugly is winning, plain and simple. The Saints won't apologize for squeaking past the Bengals yesterday. The Steelers will take their OT win over the Bills last week. The Jets needed OT to beat the Lions themselves just one month ago. There are no points for style, it only matters to those who put out power rankings.
The Bears will have to continue to prove themselves in that respect, as a team and a coaching staff; this league has a new flavor of the week each Tuesday. A win against the Eagles put them in people's minds a week ago, but a loss against the Patriots will bring back doubters. Bell Belichek and Mike Tomlin will be the two who will likely battle it out for the honor of Coach of the Year, throw in a Todd Haley if you like, but should the Bears crown themselves winners of the NFC North, the question will have to be asked:
Has anyone done a better coaching job in 2010 than Lovie Smith?
For More Great Chicago Sports Content
Follow us on Twitter at @chicitysports23 for more great content. We appreciate you taking time to read our articles. To interact more with our community and keep up to date on the latest in Chicago sports news, JOIN OUR FREE FACEBOOK GROUP by CLICKING HERE