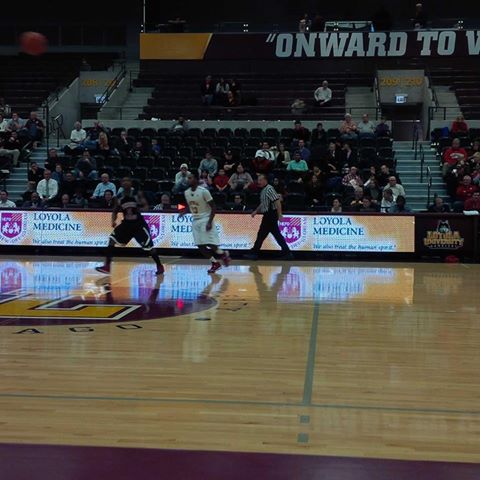 CHICAGO- With all of the ups downs that the Loyola Ramblers have gone through this season, having a home court advantage was their saving grace. Well, it was their saving grace until tonight as they lose their first game at the Gentile Center this season by falling to Northern Illinois 55-49.
In the beginning, it looked like Loyola (5-6) would improve their home record to 4-0 after coming out firing on all cylanders in the first half. They took a 28-14 halftime lead on 11-of-22 shooting. The second half was Loyola's undoing as it has been in all of their losses this season. The Huskies (4-5) outscored the Ramblers 41-21 in the final 20 minutes. Using their size advantage and switching to a fierce zone defense, NIU held Loyola-Chicago to just 6-of-26 field goals in the second half.
They also guarded the interior and kept LU out of the paint, forcing them to take many chances from beyond the ark. The Ramblers only made 2-of-8 three-point shots in the second half and just 4-of-15 for the entire game. They also forced 16 Rambler turnovers and scored 11 points off of those turnovers.
The momentum officially swung in NIU's favor midway through the second half by going on a 16-9 run from which Loyola was never able to recover.
"We were weak against the zone tonight" said Loyola head coach Porter Moser, "Our tentativeness against the zone was hard to watch" he added.
To make things even worse, the Huskies also out-rebounded the Ramblers 20-11, including 11-2 on the offensive boards. When Loyola kept missing one shot after another, the black jerseys outnumbered the white jerseys underneath the rim to grab the rebounds. This is another issue that Coach Moser is hoping to fix before January.
"They pounded us on the offensive rebounds", Moser said, "We were one hundred percent tentative tonight" he added. The Ramblers used 11 players tonight but only three scored in double figures -forward Christian Thomas (16) and guards Jeff White (14) and Milton Doyle (10)- while forward Nick Osborne and guard Joe Crisman combined for just three points. Guard Devin Turk and forward Matt O'Leary chipped in three points each off the bench, everyone else was held scoreless.
As hard as the NIU defense played however, their offense deserves some credit as well. After shooting a dismal 6-for-26 in the first half, the Huskies improved to 12-of-23 shooting in the second half. They finished the game with 13 second chance points, seven fast break points, and got 14 additional points from their bench.
When asked about what adjustments the Huskies made at halftime, head coach Mark Montgomery said "It was just one of those speeches where I said 'You have to man up, show better energy, and use positive body language and it will build your confidence' and that's what we did tonight."
The speech must have worked as four NIU players -forward Darrell Bowie (13 points), guard Dontel Highsmith (10 points), guard Travon Baker (14 points) and center Pete Rakocevic (12 points)- scored in double figures. But at the end of the day, the Ramblers power outages in the second half are starting to pile up as they have now lost three of their last six by seven points or less.
They have been outscored by a combined 136-129 in the second halves of their last four games alone. Tonight loss however cost them dearly. Tonight was their first home loss to Northern Illinois since February 11th, 1995 and just their second loss to the Huskies since November 27th, 2002. They are now 3-1 in Rogers Park this year, and they finish their non-conference schedule on the road against Fordham on December 23rd.
They begin their first official Missouri Valley Conference season at Indiana State on New Year's Day. The Ramblers return home to face Missouri State on January 5th.
"Our concentration, our leadership and our will to win in the second half is lacking" Coach Moser said. Let's just hope the Ramblers can find the energy to close out games before it's too late. Here is the box score from tonight's game.
Tomorrow afternoon, log onto Sports Town Chicago at 1:30pm. I'll be a guest on "The Paul Chivari Show" talking about this game and other goings on in college basketball. For all of you iphone, ipad and itunes users out there, log onto Rivet News Radio and download the app to hear sports and traffic updates from me at anytime.
Follow me on Twitter @GabeSalgado82
For More Great Chicago Sports Content
Follow us on Twitter at @chicitysports23 for more great content. We appreciate you taking time to read our articles. To interact more with our community and keep up to date on the latest in Chicago sports news, JOIN OUR FREE FACEBOOK GROUP by CLICKING HERE