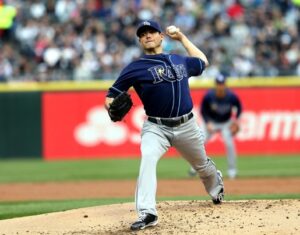 If you read the previous recap of the White Sox game on the 26th, you would know that one of the keys to a White Sox victory on Saturday would be to get at Tampa Bay Rays starting pitcher, Matt Moore, early. However, the White Sox were not able to get to Moore, and the Rays went on to win in convincing fashion, 10-4.
Moore pitched six phenomenal innings, only giving up three hits and one walk, allowing only one earned run, and striking out nine. Despite the Sox not getting to Moore they were able to give the Rays bullpen some issues as they needed to pitch two more innings than normal and gave up three earned runs to the Sox. Surprisingly, the majority of the White Sox offense came from the struggling slugger, Adam Dunn. Dunn hit a home run, and scored a run in addition to that, accounting for two of the Sox four runs. Alexei Ramirez and Conor Gillaspie accounted for the other two runs batted in for the Sox. Another surprising stat is that the White Sox hit rather well with runners in scoring position, which was countered by the Rays hitting much better in those situations.
The Sox suffered a huge loss in addition to simply lossing to the Rays  on Saturday. Gavin Floyd had to leave the game in the third inning due to a flexor muscle strain in his pitching elbow. Although Floyd seems to be the bane of some Sox fans existence, fans have to remember he is still a very good pitcher, who at times can steal games for the South Siders. The loss of John Danks and now Gavin Floyd will really take a toll on the White Sox's hopes for contention in the AL Central in 2013. With Floyd now injured, it's anyones guess as to who will replace him as the team's new starter. Whoever it is will get valuable experience as a Major League starter, and it will be good for the Sox to start evaluating the possibility of taking on a rebuilding process, yet again.
In the series finally, Dylan Axelrod will take on David Price to see if the Sox can steal the series from the Rays or if the Sox will settle for a series split. Regardless the Sox getting a split is vital for them to continue to try to get back in contention.
Next Game: Dylan Axelrod 0-1, 3.60 ERA v. David Price 0-2, 5.52 ERA
For More Great Chicago Sports Content
Follow us on Twitter at @chicitysports23 for more great content. We appreciate you taking time to read our articles. To interact more with our community and keep up to date on the latest in Chicago sports news, JOIN OUR FREE FACEBOOK GROUP by CLICKING HERE