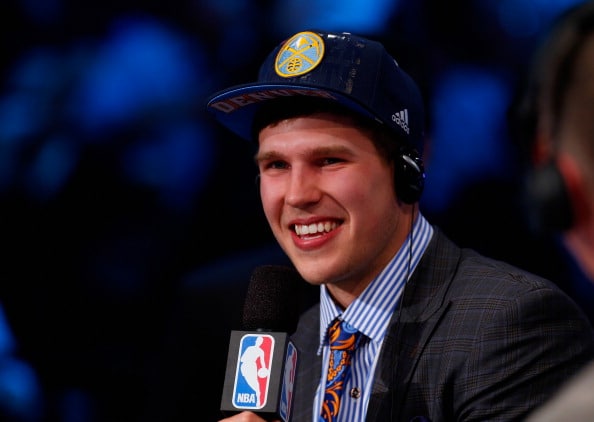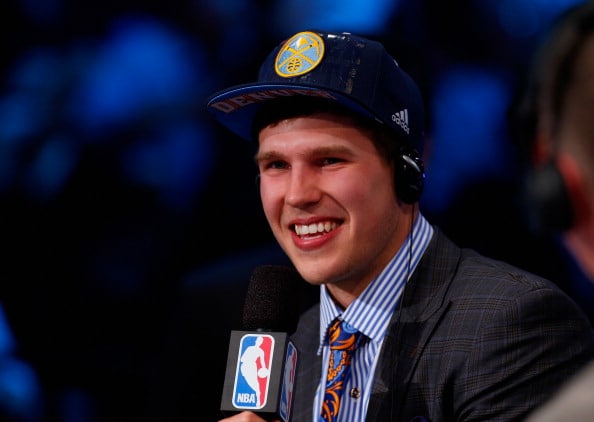 Doug McDermott is a Chicago Bull, get used to it.
The Bulls took a huge risk trading the No. 16 and 19 picks in the draft and a 2015 second-round pick to the Denver Nuggets for Dougie McBuckets and Anthony Randolph (whose $1.8 million contract was thrown into the deal to sweeten the pot even further for the Nuggets). I'll be the first to admit the end result was pretty embarrassing for the Bulls. Denver ended up with international big Jusuf Nurkic at No. 16 and Gary Harris at No. 19, who could both turn out to be as good or even better than McDermott in the future.
But you have to give some respect to the Bulls' front office for being aggressive for a change. They wanted a shooter, loved McDermott, and would do anything to see him in a Bulls uniform next season. Chicago spent more money in the process than they would've had they kept the picks, but they got their man.
This deal could look ugly down the road if the Bulls fail to maximize the potential of the fifth-highest scorer in NCAA history. Here's a look at how Chicago can seamlessly transition McDermott into the NBA.
 Let the kid play
Tom Thibodeau isn't known for giving rookies minutes, but he has to make an exception here. McDermott is one of the most NBA-ready prospects from this year's class given his track record. McDermott's lowest player efficiency rating during his final three years at Creighton was 32.4 during his sophomore campaign. He also never shot worse than 40.2 percent from behind the arc during his career. He's ready to make a difference in the NBA if given the chance.
McDermott will struggle if the Bulls try to hide him on court. They can't just place McDermott on the perimeter and wait until Derrick Rose draws a million defenders before kicking it out to him. The Bulls have to run numerous sets to get McDermott open, something they failed to do nearly enough with Kyle Korver.
This nifty chart courtesy of DraftExpress displays how potent of a scorer McDermott was in college. It's lazy to just call him a shooter because he can score in a variety of ways. No player in this year's draft was as versatile of a scorer or as efficient.
McDermott shot an outstanding 54 percent off of screens last season, better than Kyle Korver (48.2 percent). In the image above McDermott is given plenty of room to get his shot off thanks to a nice screen set by the Creighton big man. Chicago needs to constantly run McDermott around the floor and set screens for him whenever possible. McDermott will never be the focal point of the Bulls' offensive attack, but if he's on the floor there better be plenty of screen action involving him. McDermott needs to constantly be in motion, even if Rose is the primary option. Another interesting way to get McDermott open is by utilizing hand offs.
Hand offs
The Bulls were an abymal offensive team last season, ranking 27th in the league in points per play, but Chicago ranked sixth in the league in points per play from hand offs. That is the highest ranking the Bulls' offense had for any play type on Synergy last season. What is the reason for the Bulls success in this area? Joakim Noah, Joakim Noah, and Joakim Noah. Noah is tremendous at dumping the ball off to shooters and then instantly setting a nasty screen to free up his teammate for an open look. The Bulls most frequent combination on hand offs last season was Noah and Mike Dunleavy, as pictured above. Dunleavy ranked 31st in the league scoring a point per play from hand offs. He shot an outstanding 48 percent from behind the arc in those situations. McDermott will be a perfect hand-off partner with Noah next season.
Pick and roll
McDermott can be an effective player from both sides of the pick and roll. He is an ideal pick-and-pop candidate with his 6-foot-8, 218-pound frame, but using him as the PnR ball handler could elicit some interesting results.
Here is a look at Kevin Love (top picture) running a unique pick and roll combination with Ricky Rubio acting as the screen-setter. Love ranked second in the league in points per play as the pick and roll ball handler in a small sample size. He still made an impressive 13 3-pointers last season from this set. McDermott could be used in a similar way with the Bulls. McDermott ran pick and rolls at Creighton on occasion as displayed in the picture above. This is a more traditional pick and roll with a Creighton big man acting as the screener, but Chicago would be wise to emulate the Timberwolves and use guards as screeners for McDermott as well.
Playing in the post
McDermott likely will play small forward for the Bulls, but I would like to see him get the chance to play small ball at the 4 when the matchup presents itself. McDermott is surprisingly effective at the basket, shooting 67 percent around the rim last season. Chicago should give McDermott a chance in the post against smaller opponents. Surprisingly, 24.7 percent of McDermott's possessions came from the post where he converted on 1.03 points per play. That number is better than Carmelo Anthony's mark of 1.02 PPP from the post this past season, which ranked 12th in the league (calm down, just trying to put the number in perspective).
As you can see, McDermott likes to use the Dirk-esque fadeaway in the post. McDermott lacks elite athleticism and strength, so he could struggle to position himself down low in the NBA. McDermott isn't too big either, so having a fadeaway in his back pocket is helpful. McDermott doesn't need to have deep post position to utilize turn-around or face-up jumpers, so I could see these fadeaways staying in his arsenal.
McDermott might already be 22 years old with a limited track record against top competition, but he will be successful as long as the Bulls utilize him properly. Expect to see Thibs use some of these sets sooner rather than later.