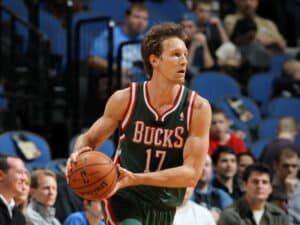 Well, that didn't take long.
On the first day of free agency the Bulls have reportedly agreed to a 2 year, $6 million deal with small forward Mike Dunleavy Jr. Many, including myself, expected Chicago to sit back and watch the dominoes fall in free agency before making any moves. Instead the Bulls aggressively pursued one of the best shooters on the market.
My initial reaction to this deal is conflicted. On one hand Dunleavy is a tremendous shooter, but on the other hand he turns 33 in September and has struggled with knee problems in recent years. He fits the mold of a Bulls player perfectly — a winner and hard worker who's regarded as a quality teammate — but at the same time the signing reminds me too much of Rip Hamilton and Kirk Hinrich (who were both plagued by injuries last season). Dunleavy played 75 games with the Bucks this past season, so an injury-free year isn't out of the question. If he's healthy, the dude can flat out shoot.
Dunleavy ranked 34th in the league in points per play according to Synergy Sports thanks to his sweet stroke. He was especially a monster in spot-up situations, ranking 27th in the NBA (he shot 44.9 percent from downtown in those situations). Although Dunleavy spot-up on 31.4 percent of his possessions, he was also effective coming off screens (44.6 percent on 3's) and in transition (47.8 percent from behind the arc). Overall he ranked 8th in the NBA in 3-point percentage at 42.8 percent. For those of you wondering why the Bulls signed Dunleavy instead of pursuing Kyle Korver (who's the superior shooter), the Duke product provides much more than your average sniper.
The 11-year veteran has learned a thing or two about scoring around the basket. Dunleavy ranked 18th in the league among swingmen with a 69.7 field-goal percentage at the rim last season according to hoopdata.com (min. 40 GP and 1.0 attempts at the rim per game). To put that number in perspective, Korver shot only 54.2 percent at the rim on 0.3 attempts per game (Dunleavy attempted 1.5 per game). Dunleavy also shot 44.4 percent from 3-9 feet which is well above the league average for swingmen (39.2 percent). For a 32-year old 3-point specialist, Dunleavy can defend quite competently.
Dunleavy has allowed a sub-10.3 PER the past two seasons while defending at small forward according to 82games.com. This past season Dunleavy allowed an 11.7 opponents PER overall, ranking sixth in the league (right behind Tony Allen and ahead of Andre Iguodala). Synergy wasn't as kind to Dunleavy, ranking him only 226th in the league. The Bucks also allowed only 0.9 points per 100 possessions fewer with him on the floor, so Defensive Player of the Year he's not. Nonetheless, Dunleavy is at least neutral at the defensive end, which is a huge positive considering the Bulls got him for his shooting.
I understand this signing isn't the home run Chicago fans were looking for, but the move makes sense. If Dunleavy stays healthy (which is a big if) he will provide the 3-point threat the Bulls have missed since trading Korver. Once Hamilton is bought out the Bulls will have 11 roster spots used up (including the two 2013 Draft picks), so don't expect much to happen the rest of the summer. Maybe the Bulls will re-sign Nazr Mohammed or pursue a different backup big man, but the roster is pretty much set. That means free agents Nate Robinson and Marco Belinelli have likely played their last games for Chicago.
A lot of Bulls fans will complain about the conservativeness of the front office with the lack of sexy moves made this offseason, but I'm actually shocked Chicago signed someone outside of a minimum salary with the luxury tax breathing down their neck.
No, Dunleavy isn't going to provide the much needed second scoring option to Derrick Rose. But who knows, maybe he'll hit a season-saving shot like Ray Allen did for the Heat… or maybe he'll be wearing a suit come playoff time a la Kirk Hinrich.
Let's hope for the former.
For More Great Chicago Sports Content
Follow us on Twitter at @chicitysports23 for more great content. We appreciate you taking time to read our articles. To interact more with our community and keep up to date on the latest in Chicago sports news, JOIN OUR FREE FACEBOOK GROUP by CLICKING HERE