Look at any athletic competition and one thing immediately becomes clear – those that make it to the highest levels of the game they play possess not just an uncanny set of skills, but also a level of mental toughness that helps them win, even against the odds. It's that same mental focus that makes successful businessmen, political leaders, and anyone else who routinely faces high pressure situations. Where others give up and fail, the best of the best use their mental ability to push them through to victory.
Chicago has always had its share of mentally tough performers and the current Blackhawks squad may be the next to bring a trophy back to the city, but the truth is that location doesn't matter. Mental focus is universal and can be applied to nearly any endeavor or pursuit.
Michael Jordan – The Mental Maestro 
If the question is whether (or how much) mentality affects performance in high pressure championships, then the clear role model is Michael Jordan, who most basketball experts consider to be the best that has ever played the game. In his 15 seasons with the Chicago Bulls, Jordan led the team to six titles, being named the MVP of every one. There is no denying Jordan's talents on the court, but the real testament to his ability was his acute mental strength and seemingly impossible ability to always lift his team to a win when the pressure was highest.
Six NBA titles are obviously impressive, but what's even more amazing is the fact that Jordan and Co. never lost once they had made it to the final matchup. It's almost as if having made it to that point, the team passed a mental wall where losing was no longer possible. In fact, none of their NBA finals opponents took the Bulls to the full distance of seven games and if you look at Jordan's performance in each of those postseason campaigns, his average points per game statistic was never lower than 30.
Perhaps the defining moment in his career came during the championship run of 1997. Struck with the flu at the most inopportune time possible, Jordan pushed through the illness, playing hard and almost to the point of exhaustion each game. However, his perseverance culminated in netting the game-winning shot in Game Five and setting the Bulls up for an at-home chance to take down the title (which they did the next game).
The Cubs – A Question of Attitude? 
Spend any time in Chicago during baseball season and it's only a matter of time before you hear about the Curse of the Billy Goat and how the Cubs will never win a World Series. While it is true that they haven't won since 1908, it begs the question of how much mentality plays a role in winning a championship. Since the infamous events of 1945 that started the supposed curse, 41 former Cubs players have gone on to win a World Series with other clubs. What this means is that the talent has been there, but the unfortunate Cubs have never managed to pull things together enough to snag a World Series title.
The mental question in the case of the Cubs is how the players themselves think about the curse. Without a doubt, they are certainly aware of it and while most probably don't believe, it could add an unseen pressure that affects how they play. By planting the seeds of doubt, the mere existence of the idea could be enough to swing the balance to the opponents of the Cubs every time they reach the post-season. However, it's more likely that the Cubs not winning a World Series is more attributable to standard statistical distribution. Given time, the Cubs will win a World Series when they have the right roster of mentally tough players.
Chris Moneymaker and a Magical Call  
Mental toughness is important in any activity, not just the world of professional sports. If you go back and watch the televised episodes of the 2003 World Series of Poker, there is a mental tension that pervades nearly every scene. At the time, poker was just starting to branch out to a more mainstream audience and the players competing knew that this year's WSOP would be something special. Of the 839 entrants, only one would possess the mental toughness needed to wade through the field and emerge as 2003's champion. Chris Moneymaker may not be from Chicago, but his win definitely inspired many people in the city (and the country) to start playing poker.
On the road to poker glory, Moneymaker was beset with obstacles requiring intense mental focus many times. Of these, none was more difficult than a confrontation with professional player Dutch Boyd. After basically running over the entire table all day, Moneymaker found himself with a chance to take a stand. Out-chipped and facing an all-in, Moneymaker had his tournament life on the line with nothing more than a pair of threes. Despite the risk, Moneymaker was able to stay focused and use his mental ability to come up with the right call against Boyd's unpaired hand. That situation acted as a catalyst that helped propel Moneymaker to the eventual WSOP victory, which sealed him a place in poker's history and earned him a sponsorship with the world's largest online poker room.
Alex Jacob Wins on Jeopardy!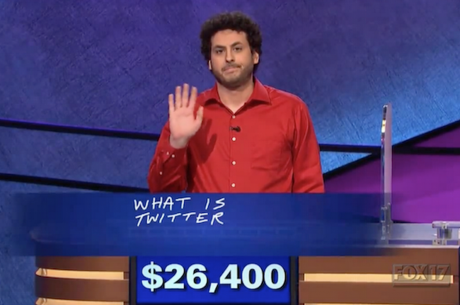 Another poker player who is from Chicago, Alex Jacob, was able to use his mental toughness to win on a very different platform – Jeopardy! The quiz show is famous for putting contestants to the mental test by forcing them to recall arcane information at the drop of a hat. What Jacob did differently than previous winners was to develop a strategy and stick to the strategy despite appearing to be making foolish plays. His strategy clearly paid off and now Jacob is being mentioned in comparison with Ken Jennings and other big Jeopardy! champions.
The core of Jacob's strategy was to correctly utilize the Daily Doubles – a part of Jeopardy! where contestants can wager their current earnings against their ability to answer a question. While many contestants often wager low amounts, Jacob repeatedly wagered everything he had to amass an insurmountable lead over his opponents. With so much pressure riding on one question, Jacob showed his mental toughness and it's this ability that led him to seven appearances on the show and total winnings of more than $150,000. Jacob was also a successful poker player, with some $2.6 million in earnings, proving that mental focus can be a major part of success despite the industry where it is being applied.
For basketball, baseball, poker, and Jeopardy! players, it's about much more than just talent. By being prepared with both the right skills and the right attitude, the examples above were able to reach the height of their individual contests and prove how mental focus can lead to big wins. Jordan, Moneymaker, and Jacob have all become vaunted examples of how to use mental acuity to make it through to the end despite facing difficult obstacles. As for the Cubs, it may have been over a century since their last World Series win, but a good team with a clear mental toughness will certainly be able to lift the curse and finally bring the club back to baseball glory again.
For More Great Chicago Sports Content
Follow us on Twitter at @chicitysports23 for more great content. We appreciate you taking time to read our articles. To interact more with our community and keep up to date on the latest in Chicago sports news, JOIN OUR FREE FACEBOOK GROUP by CLICKING HERE