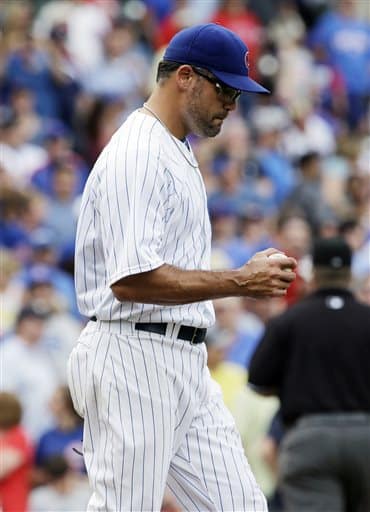 Hoping to rewrite the misfortunes of game one, the Cubs positioned themselves to do just that. But in an all too familiar setting, Chicago's pen blew their second on the day.
Jake Arrieta was called up for the special occasion and rose to it. It wasn't until the fourth that Milwaukee was able to muster up a hit. In the fifth, Juan Francisco sent one to the seats in left center, his 14th on the year. Arrieta maintained composure, though, as he retired the next three batters. He went on to pitch a solid six innings of 2 hit, 1 run ball. Even leaving while down one, he went out a winner.
Tyler Thornburg of the Brewers pitched a beauty as well but after Burke Badenhop replaced him in the seventh, Milwaukee got into a bit of trouble. Back-to-back errors from Francisco at first and Jeff Bianchi at short resulted in men on first and second with no outs. Cody Ransom and Cole Gillespie then advanced on a passed ball. David DeJesus made them pay with a double to right to put the Cubs up 2-1. DeJesus appeared to be getting back into the swing of things as he went 2 for 4 on the night with 2 RBI.
Michael Bowden came in to defend the lead and that is what he did. After allowing just one hit over two complete innings, the reliever set Kevin Gregg up for what seemed to be an easy save. Who am I kidding, nothing at Wrigley is ever easy or ever what it seems.
Almost out of the ninth and through with the game, Gregg would load the bases with two outs. Bianchi would single to score both Norichika Aoki and Jean Segura to take a 3-2 lead heading into the bottom of the ninth. The Cubs would not come back.
After today, a couple notable Cubs' trade values have taken quite the dive. After tomorrow, we'll know whether there's any value left to be had.
Staying on the field, we'll see Edwin Jackson (6-11, 4.89) and Wily Peralta (7-10, 4.54) tomorrow at 7:10pm for the finale of this four game set.
For More Great Chicago Sports Content
Follow us on Twitter at @chicitysports23 for more great content. We appreciate you taking time to read our articles. To interact more with our community and keep up to date on the latest in Chicago sports news, JOIN OUR FREE FACEBOOK GROUP by CLICKING HERE