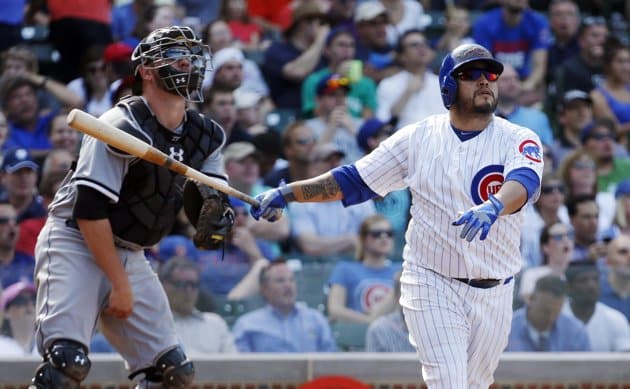 It's unlikely Dioner Navarro woke up today with the thought of doubling his season homerun total, but that's what he ended up doing. The reserve catcher stepped up and drove in a career-high six RBIs leading the Cubs to victory in the second official game of the crosstown classic.
In the second and fourth innings, Navarro struck it to left against White Sox starter John Danks. His first, a solo shot and his second, scoring Scott Hairston. In the seventh against Brian Omogrosso, he switched lefty taking it way out onto Sheffield Avenue in right. This time Navarro scored Anthony Rizzo and Alfonso Soriano.
Let's not forget about what happened inside the park. Rizzo's RBI fielder's choice hit in the first scored David DeJesus and Ryan Sweeney's line drive brought home Navarro in the sixth.
With Scott Feldman taken care of today, all he had to do was give a quality outing. He gave up a hit to Tyler Flowers who scored Conor Gillaspie in the second and a sacrafice fly to Alejandro De Aza to score Flowers in the fifth. Other than that, he was golden. Feldman went 6 innings, pitching just over 100 with 67 strikes. He allowed 2 earned runs, 6 hits and snagged 7 Ks. He had it together, getting a struggling Adam Dunn to sit down from strikes every time he faced him.
Dunn did bat in Alexei Ramirez on a sacrifice fly in the ninth to tack on another Sox run but it wasn't enough as the South Siders went down to their rivals 9-3.
Jeff Keppinger did go 3 for 4, along with Flowers and Ramirez who each hit a pair for the Sox.
They're in a two-game hole for the cup but will face the Cubs once more this week as game two's makeup is yet to be determined. Same time, same place tomorrow for Jake Peavy (6-2, 2.97) and Travis Wood (4-3, 2.73).