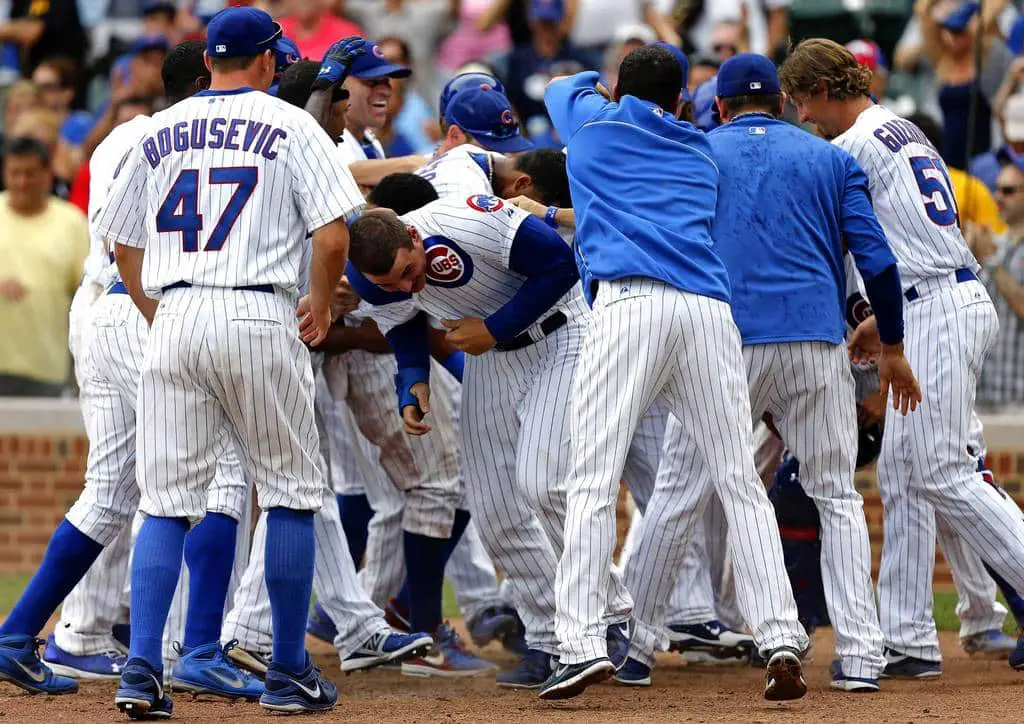 This could have ended the way we're used to seeing it: a blown save and a loss. The Cubs still did in fact blow it in the top of the ninth, but redeemed themselves in the bottom of the eleventh to raise the W. The heroes: Dioner Navarro and extras pitcher Matt Guerrier.
The inning began with promise as Anthony Rizzo and Alfonso Soriano hit back-to-back base hits off of Pittsburgh's Bryan Morris. Russell Martin then attempted to pick off Rizzo at second and threw it into center field. Both men moved up and Luis Valbuena was subsequently given a free base. Navarro came in to pinch hit and what looked to be a walk-off grand slam quickly turned into a fly out to right. Score may have been different, but the outcome was the same.
Navarro was speaking to Len and J.D. after the game, "My heart was racing right there. It's the spot where we all want to be, it's what we all dream about….at the same time we're professionals and we've got to do what we've got to do to win the game."
Backtrack 11 innings and it was Carlos Villanueva's first outing after returning to the starting rotation. Taken out early due to that, he still pitched a solid 4 innings of 3 hit, 1 run, 5 K baseball. Hector Rondon gave up another run to the Bucs while new addition Pedro Strop and James Russell kept it clean. Kevin Gregg seemed to have things all wrapped up in the ninth until there were 2 outs and a full count on Starling Marte when he drove one into the left center bleachers (9). Into extras they went.
The angst continued when the ball got through the legs of gold glover Darwin Barney in shallow right field. Extremely out of character, it was his first error in 75 games. Barney let himself off the hook after cleanly fielding a double play ball and a grounder off the foot of pitcher Guerrier, who would get the win after pitching the final two innings allowing just one hit.
Before all the drama, Scott Hairston would hit his second homerun of the series in the seventh, his eighth on the year. Tomorrow the Cubs will play the White Sox in their makeup of game 2 from the Crosstown Classic back in May. It'll be Matt Garza (4-1, 3.45) vs. Hector Santiago (3-5, 3.50) at 7:10pm at U.S. Cellular.