As NFL Draft weekend creeps closer, the intrigue about how the Chicago Bears will approach their rebuild is approaching its zenith for Bears fans.
For me, the particularly interesting question will revolve around how the Bears prioritize their "wants" vs. what they need, particularly in the early rounds. Do they follow the "best player available" rule or do they draft based on positional need?
While the focus here is differentially on the first few rounds of the draft as these picks will undoubtedly shape the Bears' later decisions, a little bit of late-round action will be addressed. And though I obviously have prospects I like, I'm most interested in how these prospects could fit into each category and what these picks could mean for the Bears' overall approach.
Wants—only draft high if it's your guy; otherwise, draft later
• Ezekiel Elliott/running back
Should Elliott—widely touted as the most complete running back prospect to enter the draft in years—manage to fall to #11, he would almost certainly be the best player still available and a very tempting option for the Bears, though it would also be allow some glaring roster holes to go unaddressed until later rounds.
The latest news, however, is that the Bears might not be willing to wait to see if he'll slip down to them. Rumor is that they could be talking to the Cleveland Browns about moving up to #8 overall, where they would likely take Elliott provided that he is available. Should this happen, it would surely make things interesting as far as how they chose to address their defensive picks depending on how many picks/which picks they give up.
If the Bears chose to stay put and wait to add a running back, several intriguing players would likely still be on the board after Round 1. Alabama's Derrick Henry could go in the first round but might slide into the second, while Notre Dame's CJ Prosise and Indiana's Jordan Howard will be available in Rounds 3-4; all of these are big-bodied runners that could complement the speedy, yet smaller Jeremy Langford.
• Quarterback
Roll your eyes if you want, but the fact is that Jay Cutler is a good starting quarterback coming off one of his best seasons in a league desperate for good quarterback play. While the clock is certainly ticking on Cutler's career—he turns 33 in two days—entertain the thought that he can give you three more effective years: why draft a replacement in the first round that might sit three years (unless you're dead convinced he's a stud) when you could draft players right now that can contribute immediately at positions of need?
That said, the Bears should draft a QB this weekend, since they're currently one injury away from starting Matt Blanchard, David Fales, or insert random veteran here. Penn State's Christian Hackenberg and Stanford's Kevin Hogan—he of the unorthodox delivery—would top my list of talented mid-round options that could develop behind Cutler this season and yet also be clear upgrades over their current backups in case of injury.
• Offensive tackle
The Bears may not be 100% comfortable with Charles Leno Jr. at left tackle going forward after he showed flashes of his potential last year but had an up-and-down season overall. As such, two more players popping up on more mock draft boards at #11 lately are Notre Dame's Ronnie Stanley, an athletic pass protector with Pro Bowl upside, and Michigan State's Jack Conklin, a more bruising presence that could fit the Bears' run-heavy style. If the Bears happened to make a move up to #8, Stanley would become a real possibility if Elliott were gone.
Should they pass on Stanley or Conklin, I could see the Bears still looking to add depth at tackle within the first four rounds if the right guy is available. A few intriguing prospects in that regard would be Indiana's Jason Spriggs, Auburn's Shon Coleman, and Texas A&M's Germain Ifedi; all of which are first-round-type talents that could slide into Day 2. A Round 4-5 pick that mock drafters have linked to the Bears is none other than Carson Wentz's North Dakota State blindside protector Joe Haeg, a developmental prospect that fits best as a zone run-blocker but is more accomplished in pass pro.
Needs—draft high if possible, but don't reach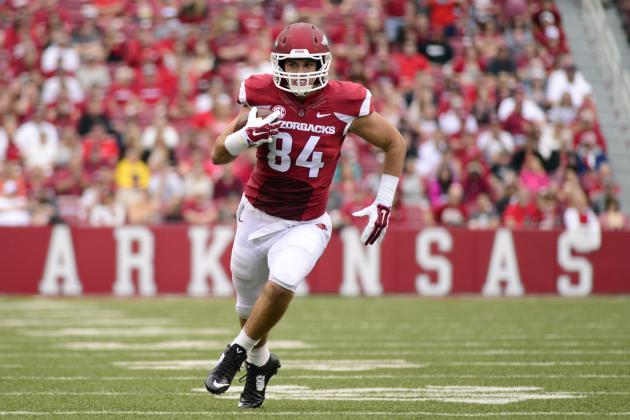 • Tight End
Yes, the Bears are putting their stock in Zach Miller to produce heavily in the starter's role vacated by Martellus Bennett. After him on the depth chart is Khari (cool, right?) Lee, who totaled one reception for seven yards last season. Given Miller's injury history, the Bears should think very hard about adding another tight end via the draft.
Unfortunately, this draft class does not have a strong tight end pool, with Arkansas' Hunter Henry (project Round 1-2 pick) generally regarded as the top prospect. That said, I did like the flashes I've seen from Stanford's Austin Hooper, the only other TE prospect listed as having visited the Bears this spring. Both Henry and Hooper appear to be Day 2 picks, so if the Bears feel strongly enough about what they added to their defense at the start of the draft (they're not going to pick either until the defense is addressed), remember those names.
Also, for college basketball fans out there, former Oregon power forward Rico Gathers could be an intriguing 6th round TE upside pick, having impressed at his pro day while trying to become the next crossover star that can present matchup nightmares a la Antonio Gates and Jimmy Graham.
• Outside linebacker
Ultimately, grabbing a dynamic pass-rushing outside linebacker could end up being the most valuable pick the Bears can make in this draft despite not being their most glaring roster hole, provided they get the right guy.
The Bears have one of the most disruptive outside linebackers in the league from a year ago (Pernell McPhee) and a couple of capable players on the other side in Lamarr Houston and Willie Young. However, one can never have enough dynamic pass-rushers off the edge (think Denver Broncos), and this draft is full of potential prospects that the Bears could nab high. Georgia's Leonard Floyd and Clemson's Shaq Lawson should be high on the list, with Eastern Kentucky Noah Spence as a darkhorse prospect with tremendous upside as a pass-rusher.
The biggest wild card here in my opinion is Myles Jack, whose injury status has left teams with concern regarding his longevity in the league and yet could be franchise-altering when he's on the field. And, unlike fellow injured, ultra-twitchy linebacker prospect Jaylon Smith, pick #11 (or pick #8 if the Bears were to switch with the Browns) would be the only shot the Bears get at him if he happened to fall that far and if they aren't completely scared away by his injury.
If the Bears pass on Jack, it would indicate they're also unlikely to pick up Smith either, though he's projected to fall to approximately the late 3rd/early 4th round, at which point his potential might begin to equal or outweigh his risk. If you're looking for a nice, safe pick later in the draft, though, then Maryland's Yannick Ngakoue (Round 3-4) or Stonybrook's Victor Ochi (Round 7) might interest you as developmental pass-rushers.
Big needs—draft high/draft often
• Defensive end
The Bears badly need at least one more 3-4 defensive end early in the draft. Despite the acquisition of Akiem Hicks adding a startable, though not elite, player to pair with Eddie Goldman on the interior defensive line, a one very big hole exists at the other end spot which, at this point, would be occupied by a combination of Ego Ferguson and Will Sutton. Not good…
Grabbing an edge rusher is certainly needed in the first few picks, but the Bears really need to add someone up front that will help them stop giving up 4.5 yds/carry in the run game. While adding Danny Trevathan and Jerrell Freeman will certainly upgrades the front seven, those guys could benefit from having a player like Sheldon Rankins or Jarran Reed in front of them at the point of attack.  It's too much to hope that DeForest Buckner will be around at #11, but trading up into the top 10 could potentially being him back into play if the Bears can't pick up Elliott.
There's also good value later on that the Bears can take advantage of in players like Louisiana Tech's Vernon Butler or Mississippi State's Chris Jones—both of whom the Bears appear to have interest in and could be had in the second round. They have also scouted local Illinois prospect Jihad Ward, a raw yet remarkable athlete with that should be available in Round 3, and Notre Dame's Sheldon Day, an undersized but high-energy interior pass-rusher that will similarly be around until Round 3-4.
• Cornerback
When Kyle Fuller and Tracy Porter are your top cover corners, you definitely need another one, which explains the emergence of Vernon Hargreaves, William Jackson III, Eli Apple, and Mackensie Alexander in discussions about the #11 pick (Jalen Ramsey will be long gone). Even if the Bears skip this position in the first round, there's a really good chance that they grab a corner by the end of Round 3 and certainly should grab at least one more throughout the draft.
Two players I like for later cornerback value are Notre Dame's KeiVarae Russell and Georgia Tech's D.J. White. Russell could have been a bordeline first-round pick had he not missed 2014 due to academic suspension and showed some rust upon his return. White has also been tabbed by many as a mid-to-late-round favorite of the Bears, showing off impressive ball skills that Chicago might be able to utilize after some seasoning and having noted special teams value as well.
Later round grabs

• Wide receiver: assuming a healthy positional group to start the year, the Bears will have their top four receiver slots already penciled in (Alshon Jeffery, Kevin White, Marquess Wilson, and Eddie Royal). Of course, none of those players could stay healthy for the duration of last year, but the point is that it's low on the totem pole as far as needs go. The Bears likely won't look to add receivers until Round 3 at least, provided that they have addressed their defense sufficiently. Look for Oklahoma's Sterling Shepard here as a potential steal if he happens to slip into Round 3, and especially keep an eye out for Georgia's Malcolm Mitchell and Michigan State's Aaron Burbridge (a pick I would love in the middle rounds) on Day 3.
• Safety: Aside from monster DB prospect Jalen Ramsey, there probably aren't many safeties the Bears would take early on that would be more valuable than an edge-rusher or defensive end. As such, the Bears will likely wait until the middle-late rounds to address this position. Boise State's Darian Thompson could break that mold if the Bears like him enough in Round 3 or 4, as his size and ball skills could be useful defending the middle of the field. One guy being talked about later on—and one that the Bears have notably met with—is Notre Dame strong safety Elijah Shumate, who's projected as a 7th rounder/FA. Though he's very raw in coverage, Shumate is a big hitter with some size that could develop into a nice find after learning at the NFL level for a bit.
While the Bears could certainly use a couple of players on the offensive side of the ball, the most clear-cut needs for this team are unquestionably on defense, which improved from the past two seasons but still struggled across the board. Finishing 22th in both rushing yards allowed (26th if you like yds/carry better) and in sacks, tied for 25th in passing touchdowns surrendered, 28th in takeaways and 29th in third down efficiency last year underscores the need for impact players on this unit.
If the Bears happen upon Elliott/trade up for him or go for an offensive tackle they like at the right time for their first pick, they might elect to go offense first, address the DE/OLB situation in Round 2, and then perhaps double up on the front seven or grab their first corner next. If the Bears go with edge rusher or defensive line first, that opens up the door for a tight end, running back, or offensive tackle steal on Day 2 or early Day 3. Then, once Round 4 rolls around, I see the formulas looking fairly similar no matter what, with the Bears adding a receiver prospect or two for depth and stocking up on defensive backs throughout the late rounds. With so many positions needing help, however, very few options are truly off the table no matter what's speculated.
Without just one positional need, the most prudent thing to do would seem to be get the best available players to upgrade both sides of the ball, as drafting just based on need can lead to truly impactful players being missed. Picking one side or the other will always have its drawbacks, though, and so it will be interesting to see how often Pace is able to strike gold and get the best player available where the Bears need him most.
For More Great Chicago Sports Content
Follow us on Twitter at @chicitysports23 for more great content. We appreciate you taking time to read our articles. To interact more with our community and keep up to date on the latest in Chicago sports news, JOIN OUR FREE FACEBOOK GROUP by CLICKING HERE