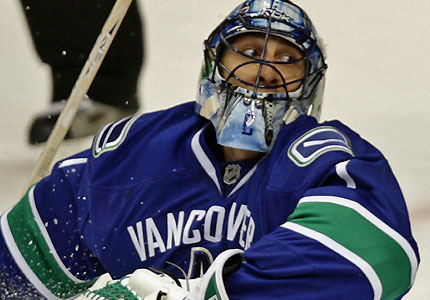 What will Chicago be making in Luongo's kitchen Easter Sunday?
Vancouver Canucks' head coach Alain Vigneault may have not given enough thought to his decision to start goaltender Roberto Luongo in Game 6 against the Chicago Blackhawks. In his post-game interview after Game 5's disaster it was a given that he would be asked who would start Game 6 in Chicago on Sunday.
Instead of making a blanket statement of uncertainty or stating that he wanted to talk with Luongo first, Vigneault, possibly wanting to avoid a public relations media gauntlet, simply gave the answer that would cause the path of least resistance. As Vancouver Sun reporter Cam Cole so eloquently laid out, Vigneault has a lot of other issues in play that are riding on this year's Canuck's playoffs.
So, was his quick decision based on what was happening on the ice or off it? Either way, his decision may well be the wrong one. In 2009 and 2010 the Blackhawks almost inexplicably got into Luongo's head and set up camp there eliminating Vancouver from the playoffs in the 1st Round both years and it looks like more of the same this year. Yet this year, the Hawks seem to be in Luongo's kitchen and are working hard on making Easter dinner.
While Canuck's Superman Luongo's strong performances in Games 1, 2 and 3 gave the appearance that whatever kryptonite-like control Chicago had over him was a thing of the past, Game 4 was another story. Many are contributing Chicago's performance in Game 4 to the questionable head shot that Vancouver's Raffi Torres took on Chicago's Brent Seabrook in Game 3 as the call that awoke the sleeping giant.
If the call on the ice had been the 5 minute major that the Blackhawks were justifiably asking for and if the NHL had followed up with a game or two suspension for Torres, the Canucks might well be sitting home waiting to see who they would be playing in Round 2. The simple fact that the NHL has talked big about head shots over the past few months combined with Torres just having come off suspension for almost the same exact hit would have given the league their poster boy for no-no's on head shots. Instead, the Blackhawks might well have the NHL's Colin Campbell to thanks for their playoff ticket to the 2nd Round.
To a certain extent, I can see Vigneault's potential short term argument that starting back-up goalie Cory Schneider could have a negative effect on Luongo's already tender mental state as well as the media onslaught of questions about the switch. Yet, it is quite possible that by watching from the bench vs. the locker room Luongo could get a different visual point of view of Chicago's game that might fuel his fire in case he has to go in later in Game 6 or is needed to start Game 7.
If he bombs Game 6 in Chicago, where the fans are just itching to sing "Chelsea Dagger" to him, then he is going be that much deeper into the rabbit hole for Game 7 where Vigneault will have no other choice than to start him. It is no secret that Blackhawk fans are anxiously awaiting Luongo's return to the United Center now that the wheels are again starting to come off the Canucks' runaway train. Does Vigneault really want to subject Luongo to that knowing that he could possibly need Roberto for Game 7 at home?
While some are finger pointing at other Canuck stars like forwards Hendrik and Daniel Sedin and Ryan Kesler and D man Kevin Bieksa for allowing their emotions to get the better of them on the ice leading to undisciplined plays and most importantly many more penalties giving Chicago more power play opportunities – the key is Luongo.
As some may recall, after last year's loss to Chicago in Round 1 of the playoffs, Luongo stated in September of 2010 that he would be stepping down as team captain so that he could have less distractions and focus solely on his goaltending responsibilities. Yet, here we are again with that all too familiar scenario playing out for the third year in a row.
If the Canucks cannot figure out what it is that allows Chicago to play Geppetto to Luongo's Pinocchio year after year, this may well become an annual event in the Western Conference. In the big picture, the Canucks could never rid of Luongo in this salary cap-strapped NHL due to his 2009 contract which pays him $64m over 12 years.
They need to figure out this Chicago/Playoff-phobia (three years in a row certain qualifies for an intervention) if they have any hopes of making a Cup run with Luongo in net. Luongo also needs to learn how to handle the press and the pressure, keeping him veiled from the press only makes his absence all the more appetizing to a media force who is always hungry for a story.
For More Great Chicago Sports Content
Follow us on Twitter at @chicitysports23 for more great content. We appreciate you taking time to read our articles. To interact more with our community and keep up to date on the latest in Chicago sports news, JOIN OUR FREE FACEBOOK GROUP by CLICKING HERE