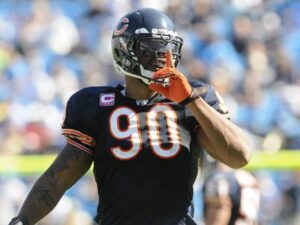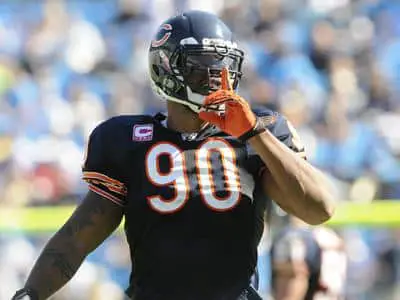 Remember all of the hype and hoopla surrounding the Bears free agent signings last season?  Remember when, on the first day of free agency, the Bears hauled in defensive end Julius Peppers, running back Chester Taylor and tight end Brandon Manumaleuna?  For the first time in a long time, the Bears front office had went out and done something that they weren't ever expected to do and that was spend a lot of money to bring in some good players to help make the team better.
Prior to last season, the greatest strides that the Bears took in free agency during the Jerry Angelo administration included bringing in offensive tackle Jon Tait and running back Thomas Jones.  Tait retired a couple years ago while Thomas was traded a couple seasons after coming to the Bears so that they could make Cedric Benson the starter (and take away any competition that he might have at the position).
Peppers came to the Bears with some criticism as there were a few people that felt that he didn't play all out all of the time and wasn't worth the money that the Bears paid him to come to Chicago.  But, after his stellar season in 2010 all worries about him were wiped away and the Bears, along with their fans, realized that they had picked up the best free agent prospect in their history.
Peppers was definitely worth the money that the Bears spent on him in free agency and as long as he stays motivated and healthy he should be able to keep on paying dividends for at least the next three years and maybe more.
Taylor was brought in to give the Bears some additional depth at the running back position after starter Matt Forte had some problems staying healthy and effective in 2009.  As it turned out, Forte ended up having an excellent season running the ball which left Taylor as sort of the odd man out.
As a result, the coaching staff didn't use him as often as perhaps they should have and he didn't have a good season.  Taylor was stuffed on a lot of his plays because the Bears failed to use two back system and his presence in the lineup tipped the opposing defense off to the fact that the Bears were going to run the ball.
Consider Taylor's position on the team up in the air for next year but keep in mind the Bears would be a little crazy letting him go after signing him one year earlier for the kind of money that they brought him in for last year.
If there was a true "bust" of the three free agents that the Bears brought in last season it would have to be Manumaleuna.  He wasn't brought in to catch the ball (although he did have a touchdown catch during the season) but instead, was brought into block and if you watch game tape you will see that he missed a lot of blocks that directly led to sacks on quarterback Jay Cutler.  He seemed slow footed, disinterested in blocking and out of shape.
But, the Bears have, like with Taylor, painted themselves in a corner after giving Manumaleuna a lot o f money last year so cutting him this year would probably be a mistake.  The question is, how long can they hold onto someone that's clearly not productive as a blocker, has virtually no value as a receiver and could cost the Bears in terms of the health of their quarterback.
The Bears have shown some interest in a couple of draftable tight ends this offseason, guys that would be blockers more than pass receivers so it's possible that Chicago could be looking to replace Manumaleuna in the draft this offseason.
Overall, with Peppers being the strongest in this group, the Bears didn't do too bad of a job bringing in these free agents last year but didn't get as much production out of them (minus Peppers) as they would have liked.  Peppers was money well spent but the coaching staff couldn't quite figure out how to use Taylor properly.
Manumaleuna wasn't everything he was believed to be and may be more of a liability than an asset on offense and may not be around at the start of the 2011 season.