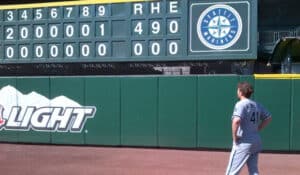 Baseball never ceases to amaze. When the sport gets to the point of being trite and boring for even the most dedicated fan, baseball reels you back in with something astounding.
No, I'm not talking about a 9-0 deficit come-back from the Yankees against the Red Sox; we've seen that happen hundreds of times before. Nor am I talking about an amazing over-the-shoulder catch made by a bolting shortstop; that's standard.
I'm talking about the perfect game.
And, before yesterday, there have only been 20 perfect games in MLB history.
Think about that. 20. In well over 100 years of baseball games being played and thousands of games being played each year, we have only witnessed 20 perfect games.
20. It is mind-boggling to even ponder that.
Everyone knows who Justin Verlander is. He was the 2nd overall pick of the 2004 MLB Draft. But, not too many people know who the 3rd overall pick of the 2004 MLB Draft was. No one outside of Chicago had ever heard of Philip Humber.
People have heard about him now.
Humber's Numbers
Humber pitched a dominant game. Only needing 96 pitches (67 of which were strikes), Humber located, had his hook working, and, possibly more amazing, never saw an opposing hitter's count get full until the 9th inning – surely attributed to I'm-about-to-throw-a-perfect-game jitters.
Humber has been, in his career, excellent against lefties. In fact, one could argue, against lefties, he has elite stuff. His stuff against righties, historically, has left much to be desired. However, as we saw yesterday, no batter had a chance.
Keeping It Classy…Really
I have to give huge props to Mariners' fans who witnessed history happening against their team and kept their hands clapping throughout the 9th inning as Humber tried to achieve perfection. The moment culminated by giving the hurler a standing ovation. It was an ultra-classy move by the fans and SafeCo staff and it was heart-warming to see.
The Last Pitch
Did Ryan go or did he check it up? From the standard TV angle, one could argue he did check his swing. Fortunately, from the camera of a fan in the stands, it certainly appears that the ump made the correct call. But, don't take my word for it: what do you think?
Yesterday marked the 21st perfect game in MLB history, and while the feat was awesome for us White Sox fans to see, I know it was awesome for all baseball fans who appreciate the game.
For More Great Chicago Sports Content
Follow us on Twitter at @chicitysports23 for more great content. We appreciate you taking time to read our articles. To interact more with our community and keep up to date on the latest in Chicago sports news, JOIN OUR FREE FACEBOOK GROUP by CLICKING HERE