Here are five observations from the Bears' first preseason game against the Denver Broncos. Believe it or not, a couple of positives did emerge from what otherwise was a tremendous buzzkill:
1. The Bears' offense accomplishes nothing, starting with the offensive line

There was very little silver lining in this effort by the offense as a whole, from starters to reserves, and the blame falls almost wholly on the offensive line.
The fabled running lanes talked about in camp didn't open up, leading to a negligible impact from Bears' running backs, and the Broncos accumulated seven sacks—two on Jay Cutler. On the Bears' second drive, not a single play they ran was blocked well, forcing the first of consecutive three-and-outs.
Rookie Cody Whitehair, in particular, had a tough day, albeit more when he was at center than at left guard. On one drive, he had two consecutive holding penalties and then got beat for a sack on Brian Hoyer.
Hopefully, this is just a product of the line needing time to gel with Ted Larsen making all the calls at center rather than the injured Hroniss Grasu. Rumors of Wade Phillips scheme blitzing in the first preseason game aside, I expect next week to be markedly improved. Based on last night, it can't get much worse.
Here's Cutler after the game, via the Chicago Tribune:
"We need to get better, and that starts with everybody, and it starts with me. We'll take a look at it, the limited number of plays we were in. We'll assess what we did good and bad and try to get better."
Speaking of which, the quarterback play wasn't perfect either. Cutler had a few nice throws and would've been 4-4 if not for a drop by Marc Mariani at the end of first quarter. But he missed two reads on 3rd and 3 on the Bears' first possession—first Mariani in the flat, then Jeffery over the middle—that could've been first downs (Mariani for sure was wide open), instead taking a sack that forced a punt.
Hoyer, who has had issues in camp with arm angle and accuracy, sailed another one high to Deonte Thompson that got picked off in the second quarter. David Fales got sacked for a safety with both Jordan Howard and Josh Bellamy open on crosses over the middle.
In fact, let's just stop talking about the offense. Aside from no one getting seriously injured on that side of the ball, all the actual positives were on defense.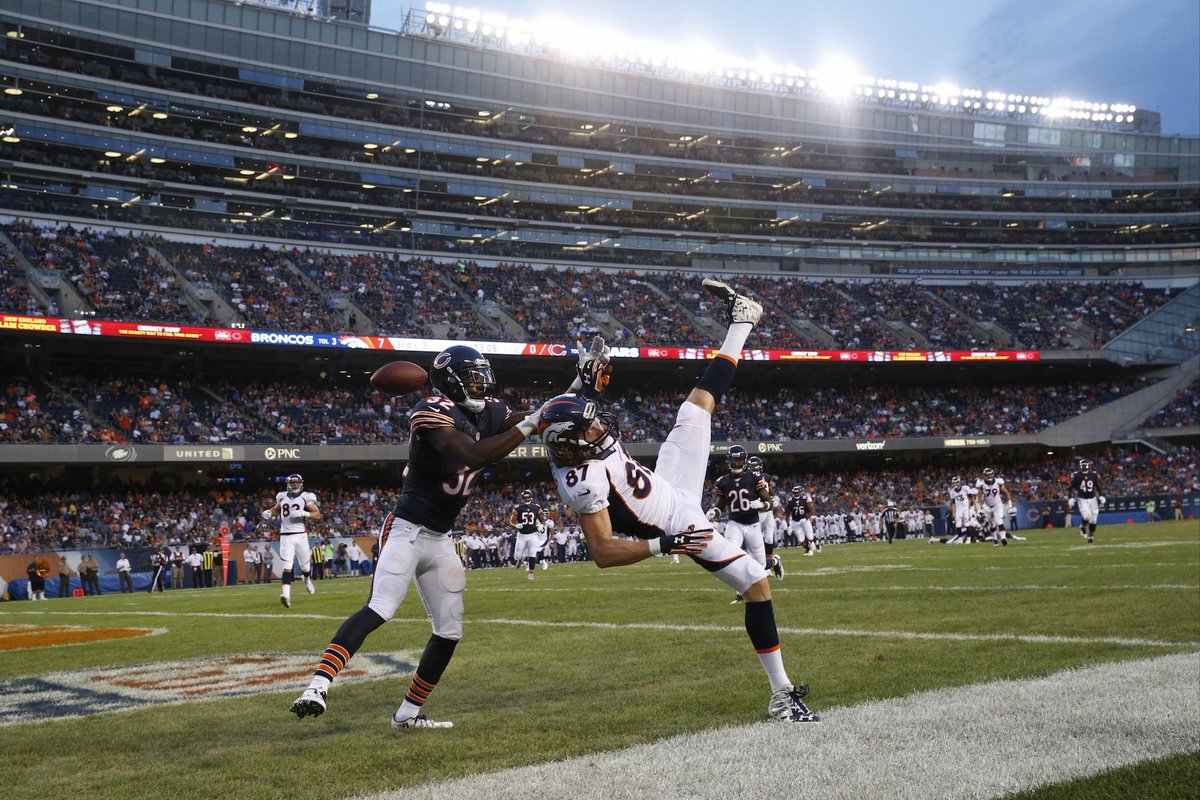 2. Deiondre Hall could play sooner than we think

Hall still looks raw in a few ways: his lack of pure speed was exposed when he got beat by Cody Latimer on a crossing route, and eventually he'll need to turn and locate the ball in the air on deep passes. But his two consecutive pass breakups in the endzone were a thing of beauty.
Trevor Siemian tried Hall with two straight back-shoulder fades, and though the receiver got some separation, Hall stayed with the play and shot his condor-like arms right through the receivers' hands to jar the ball lose. Here's what Hall said about that sequence via ProFootballWeekly.com:
"One of my key things for the week was just don't get beat deep," Hall said. "You never want to get scored on, so just playing through the hands and playing through my technique and it ended up working out for the best."
The first play might've been passed off as luck; the second time said otherwise.
Originally, I hadn't looked for Hall to be much of a factor this season at cornerback, barring injury, and I still maintain that he's not ready to seriously challenge Kyle Fuller, who didn't impress in his limited time, or Tracy Porter, who had the night off, yet.
But if he sharpens his coverage skills and learns how to leverage his wingspan, he could push for playing time on his own merits far sooner than expected.
3. For the first time in a while, linebacker is a real strength for the Bears

The new and improved linebacker group really carried the day for the Bears' #1 defense. Willie Young was in Mark Sanchez's face early and often, and the two new inside linebackers—Danny Trevathan and Jerrell Freeman—showed off their speed and delivered a few crunching blows when they arrived at the ball.
Freeman's interception off of a tipped pass by Callahan was the kind of play we haven't seen a Bears linebacker make in a few years, reacting quickly and snagging the floating ball out of the air with one hand.
If the defensive line can keep them clean, these linebackers, especially when McPhee gets back on the field, will clean up a lot of mess.
4. Leonard Floyd is just about what we expected, and that's fine

It was a largely uneventful first game for Floyd, but he didn't look out of place. The Bears used Floyd in a primarily situational role as a pass rusher, even throwing him in with the starters on the fateful Sanchez-to-Thomas touchdown pass.
Later in the game, he beat backup tackle Darion Weems with a nice inside move but couldn't get home and tried a few spin moves, though he never managed to get home. He did draw a holding penalty in the first half though, which led to him getting his first dose of double teams. Predictably, that was a difficult challenge for the rookie.
That said, Floyd made a few plays in the run game, including a nice backside chase-down of DeVante Booker. Ultimately, while his pass-rushing production is going to be what gets him on the field, his development as a run-stopper was what will keep him on it.
For now, though, I take it as a positive sign that Vic Fangio is comfortable putting him on the field with the first-team in game situations. Clearly, they think our 9th-overall pick can contribute now—especially in the absence of McPhee—and even though he needs to improve, he showed enough to make his case for the moment.
5. Bullard, Washington make bids to be in the defensive line rotation

We've all been eagerly anticipating Jonathan Bullard's first NFL action, expecting that his burst off of the line would make him a prime candidate to force his way into a starting spot or at least in the defensive line rotation sooner rather than later. In fact, Bullard was the first rookie onto the field with the first-team defense, followed by Floyd.
And throughout the game, he didn't disappoint, ending with two tackles—one being a TFL in which he stormed the backfield with Cornelius Washington, who also had a very good game while struggling through pain.
Those two got onto the field before Ego Ferguson, who now may be considered firmly on the roster bubble. And given the way they consistently dominated last night, they are making bids not only to keep those spots but also to firmly entrench themselves as part of the defensive line rotation going forward, provided that they (read: Washington) can stay healthy.
Other notes


Kevin White only got one target and catch—a measly 2-yard gain on a badly-blocked screen—but as soon as he touched the ball, his speed, explosiveness, and physicality were immediately evident. If the offensive line can keep Cutler on his feet long enough to find him downfield, watch out.
I never want to see Callahan playing outside—especially on an elite receiver—ever again. The tipped pass doesn't negate how awful his coverage was on the Demaryius Thomas touchdown catch.
Deon Bush could be the next rookie getting snaps in with the first team. His range on deep passes was on display, and though he missed a tackle in which he should've wrapped up better, that's probably not going to be the norm. If he can make plays on the ball in games, he'll push Harold Jones-Quartey for snaps with the starters.
For More Great Chicago Sports Content
Follow us on Twitter at @chicitysports23 for more great content. We appreciate you taking time to read our articles. To interact more with our community and keep up to date on the latest in Chicago sports news, JOIN OUR FREE FACEBOOK GROUP by CLICKING HERE