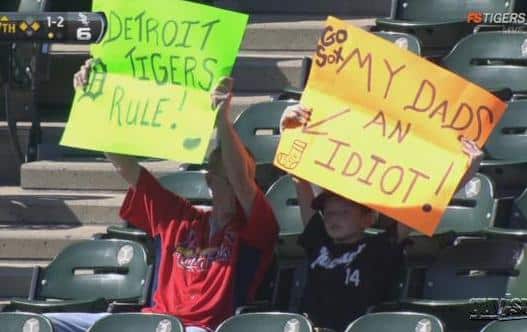 (Image Via @WorldofIsaac, 2012)
After taking two from Detroit in their last match up, the White Sox (39-56) and the Tigers (53-44) meet again at U.S. Cellular Field for a four-game run.
All-Star pitchers Chris Sale (6-8, 2.85) and Max Scherzer (13-1, 3.19) will start things off on the mound this evening. Sale and Scherzer pitched back-to-back during the All-Star Game, but now look to face off on their respective teams.
But even amidst the recent All-Star camaraderie between Sale and Scherzer, expect this to be a rough n' tumble series. After a bench-clearing dispute ending the Southsiders' road trip to Detroit, one can only imagine the drama and rivalry-induced antics that will come as the Tigers visit this week.
The White Sox are coming off a big win weekend against the AL East-leading Atlanta Braves, and have some hot bats going in to this game. Alejandro De Aza is currently producing significant hits on a nine-game batting streak, and Alex Rios went 2-4 in yesterday's win.
But the good guys are going to keep special tabs on Detroit's Miguel Cabrera, who is batting .453 with seven homers and 15 RBI in his last 16 games against the White Sox (and he currently leads the majors hitting .359).
Expected at the mound—
Monday: 7:10 p.m., RH Max Scherzer (13-1, 3.19) vs. LH Chris Sale (6-8, 2.85)
Tuesday: 7:10 p.m., RH Rick Porcello (6-6, 4.80) vs. LH Hector Santiago (3-5, 3.30)
Wednesday: 7:10 p.m., RH Anibal Sanchez (7-7, 2.85) vs.LH John Danks (2-7, 4.52)
Thursday: 1:10 p.m., RH Justin Verlander (10-7, 3.69) vs. RH Jake Peavy (7-4, 4.19)