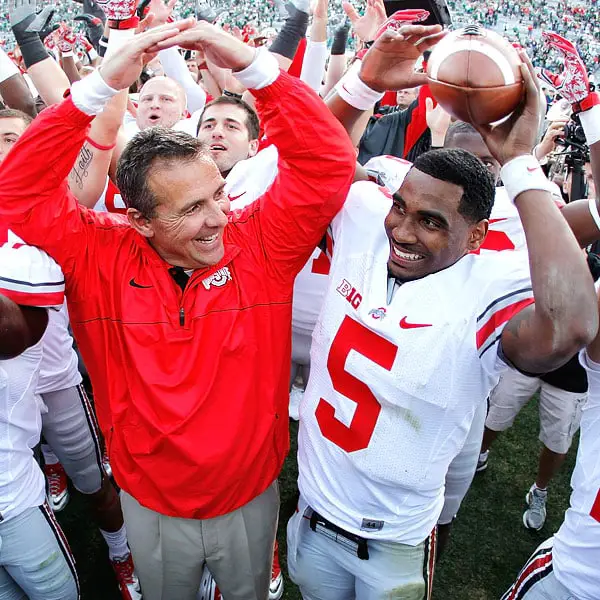 In my first Q and A, I spoke with the eccentric Michigan quarterback Devin Gardner. Another name that you're sure to hear more than a few times this college football season is Braxton Miller. The Ohio State quarterback is entering his junior season and he's already accomplished more in his first two seasons then most college quarterbacks achieve in their careers. I already conveyed my love fest (maybe prematurely) for Miller last season, as he shined under the helm of new Buckeye coach Urban Meyer. The Buckeyes were never really a college football favorite, but in a season of serving a bowl ban on top of additional penalties, the college football world was even harder on the team than usual. Ohio State endured their fair share of "free tattoo" chants, but persevered to a perfect 12-0 season and a National Championship.
In just his sophomore season, Miller made strides in his passing game, improving his completion percentage (54.1% to 58.3%), touchdowns, (13 to 15), and QB Rating (138.4 to 140.5). Miller continued to excel on the run, rushing for a career-high 13 touchdowns and 1,271 yards to lead the team. With the bowl ban lifted and with another season under the Heisman hopeful's belt complete, I had the chance to sit down with Coach Urban Meyer and QB Braxton Miller at Big Ten Media Days in Chicago.
Coach Meyer
What do you think is so special about Braxton's game?
"Number one he's such an incredible athlete. Number two he's a competitor. Those two things can separate the good ones from the great ones."
How does having a player like that at the center of your offense change your scheme?
"Well I think if you evaluate the first five games last year he was really the only guy that I trusted. We had some very close games, we were not very good, and we used him because he was our best player—and we had to win those games. I'm hoping that this year we can space the ball around a little better. I feel better about our personnel, maturity and recruiting—I feel much better."
Braxton Miller
Coach Meyer said you're "one of the best quarterbacks in America." What does that mean for you coming from him?
"He knows what it takes. He knows how prepared you have to be to be on that next level. He's always telling me I'm almost there, I'm close. He tells me the little things I need to work on to get myself to that point. When he recruits some other quarterback when I leave, like 'man, you know that guy Braxton? He's one of my guys.' That's how I wanna leave."
How did it feel getting one season under your belt with Coach Meyer?
"Big old playbook the first time I saw it I was like, 'I don't know how the heck people are gonna learn this playbook.' It took camp, and a couple of weeks after, and it was down pat. Getting one year under your belt with that playbook says a lot with the changes, we feel more comfortable."
What was your first workout like when you first came to Ohio State?
"Ooohhh. Something I can remember *Laughing*. [Mickey Marotti's] a good strength coach, he's a good person, he cares about you—but when it comes to that weight room, he's gonna push you to the limit. To a limit that you've never been before."
Have you always been a big workout guy?
"Workout guy? Yeah, but in [Marotti's] perception? No *Laughing*. He wore everybody out the first workout. He's taught along that time how to workout, how to eat and take care of your body."
Is there any NFL player that you try to model your game around or  a player that you watch and maybe thought you were similar to?
"I like Russell Wilson a lot—how mellow he is, and how he delivers when he's out on the field or how he presents himself. I watch him all the time. Pete Carroll coaching him—it's just crazy how he came from Wisconsin and had to overcome the doubters on how short he was. He's great to me, so that's the guy I look at."
How much has your passing game improved in the offseason?
"A lot. Guys confident, everything, and they own routes because it took a lot of time getting used to the routes and the playbook. My fundamentals got a lot better. It's about an 8.3 right now *Laughing*. 8.3."
Will this year be easier in a way since the bowl ban is lifted and you have something to play for?
"Something to play for but it's the same type of focus that we had last year, to achieve that 12-0—but it wasn't too easy I can tell you that. It was really hard. A couple of guys were banged up. Starting D-line [John Simon] couldn't play against Michigan. I got hurt in the Purdue game, Kenny [Guiton] came in and backed me up. Just the little things we overcame as a team."
For More Great Chicago Sports Content
Follow us on Twitter at @chicitysports23 for more great content. We appreciate you taking time to read our articles. To interact more with our community and keep up to date on the latest in Chicago sports news, JOIN OUR FREE FACEBOOK GROUP by CLICKING HERE