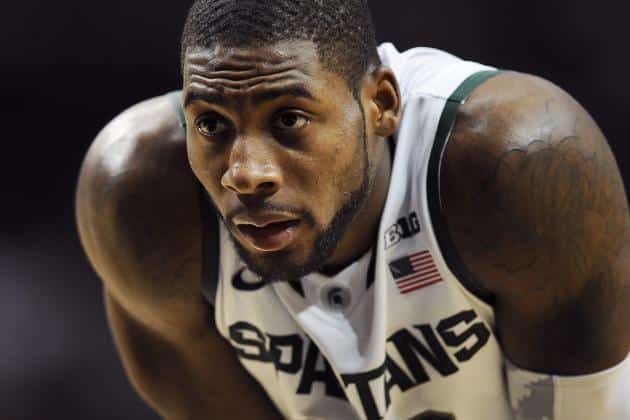 Branden Dawson's junior season didn't exactly go as planned.
Last season, Michigan State got off to an 18-1 start led by the experienced core of Keith Appling, Adreian Payne and Dawson. With the Spartans sitting at No. 3 in the nation, it looked like coach Tom Izzo had himself another title contender.
Soon injuries would pile up to the Spartan's Big 3 and a shift in momentum was in store.
Payne missed time with a foot injury and Appling hurt his wrist, diminishing his impact almost entirely.
Still, the most perplexing injury of all was self-inflicted by the Spartan's glue guy.
Dawson, frustrated with his play, smashed his hand against a table after a 71-66 win over Indiana in East Lansing.
Yes, you read that right. Dawson broke his hand against a table after a win.
When he heard ESPN announcer Dan Dakich talk about Dawon's importance to the team's title hopes, Dawson became disgusted with his performance.
Keep in mind, this was after he actually had a good game. He finished with 13 points and 9 rebounds shooting 5-7 from the field.
The Spartans lost five of the nine games Dawson missed, and even upon his return, they lost two of three.
With Michigan State's season in peril and the Big Ten tournament up, Dawson took his frustrations out on the court this time.
Dawson averaged 15 points and 7.3 rebounds in the Big Ten tournament, winning MVP honors, and he led the Spartans to another Big Ten title.
He continued his hot play in the NCAA tournament with several big performances, including finishing with 26-9 against Harvard and 24-10 against Virginia.
The Spartans would eventually lose to the national champion Huskies in the Elite 8, leaving Izzo's first group of seniors without a Final Four run.
This narrative speaks volumes to the type of player and the type of person Branden Dawson is. Dawson literally broke his hand against a table because he was let down his teammates, and he came back better than ever.
Payne and Appling have graduated, and Gary Harris now in the NBA, leaving Michigan State without three of their top four scorers from last season.
If you think Dawson, now a senior, won't do everything within his power to get to the Final Four, you're badly mistaken.
Dawson has always been a player that's intrigued me, so I was thrilled when I had the chance to speak with him last week at Big Ten Media Day.
When sat down next to Dawson, the first thing that caught my eye was his name card.
It read "Branden Dawson, G-F." That's basically the guy in a nut shell.
He's only 6'6," but he's a big dude, probably bigger than the 225 lbs that he's listed at.
Dawson said he doesn't consider himself any one position, but if he had to choose?
"I would say kind of a small forward."
Dawson plays with a grit and grind, in your face style. The kind of play that would make Tom Thibodeau nod, maybe even smile.
Coincidentally, he reminds of Taj Gibson. He uses every bit of his length, strength, and athleticism, to his advantage and does whatever it takes to get the W. He has an emerging offensive game that includes a developing midrange game, and he should be the focal point of the offense for the first time in his college career.
Still, his best asset, without a doubt, is his defense.
"I take pride in playing defense," Dawson said. "Most guys don't really like playing defense but I like getting under a guy's skin, I like getting rebounds, and just doing the little things to help my teammates. I take pride in playing defense, like Aaron Craft does."
Dawson spent this summer locking up former Michigan State star Draymond Green.
"Just competing with him, he takes pride in defense too," Dawson said. "Just going up against him in open gym and in workouts he made me a lot better. And I made him better too."
Dawson doesn't like to talk about the NBA much, but in a lot of ways, Green embodies the potential Dawson can fulfill.
Green, like Dawson, is only 6'7," but can defend almost any position in the NBA. Green fell to the Golden State Warriors with the 35th pick in the 2012 NBA draft, and he's been a key rotational player ever since.
Whether Dawson admits or not, there's a future for him in the NBA.
It's the epitome of the heart of a college basketball player. One day in the near future, Dawson won't be playing for a Big Ten title, he won't be playing for a national title, and he won't even be playing for his teammates. He'll be playing in a high school gym packed with hundreds of scouts as they critique his every move. But right now, it couldn't be further from his train of thought.
Another reporter asked Dawson about the NBA combine that was held exclusively for Kentucky players a couple of weeks ago. He seemed genuinely taken back by it.
"How could you deal with that? It was just crazy," Dawson said. "That's a lot of pressure, seeing those NBA scouts."
Regardless of his thoughts on the NBA draft process, Dawson still keeps up with the NBA—but as a learning device.
"This summer I watched a lot more film than in the past," Dawson said. "I watched Kawhi Leonard, I watched him a lot. I watched Andre Iguodala, I watched LeBron, just the way he changed his game."
Dawson is a student of the game and from what I can tell, he has a good sense of his abilities as a player.
It's scary to think what Dawson might look like this season with a bigger opportunity and a clean bill of health.
"I can't wait for everybody to see the year he's gonna have," fellow senior Travis Trice said. "He's put in the time, he's put in the work this summer and this offseason. He's hungry right now."
Once again, Dawson's development will be key to the team's success.
"Does he take another step up, does he average the 15, 16 points, eight, nine rebounds that he did the last six, seven games of the season once he got back?" Coach Izzo said. "If he does that, I think this team could progress greatly here in the months to come."
Every Michigan State fan in the country hopes Izzo's questions will be answered soon enough. In East Lansing, winning is everything and the whole is greater than the sum of its parts.
There's a reason Tom Izzo has only coached one top ten pick and one 'one and done' player in his 19 years as head coach at Michigan State.
It's rare that an Izzo coached team relies so heavily on one player.
Izzo will continue to work his magic and make the most out of what he has, but make no mistake about it, this team will live or die by Dawson.
It looks like Dawson is finally ready to embrace that.
"Now, after when I hurt my hand and I came back and had the breakout performance that I had, I told myself if I do this every night, I can be something special."
With plenty of opportunity and a bright future ahead of him, it's Dawson's time to shine.
For More Great Chicago Sports Content
Follow us on Twitter at @chicitysports23 for more great content. We appreciate you taking time to read our articles. To interact more with our community and keep up to date on the latest in Chicago sports news, JOIN OUR FREE FACEBOOK GROUP by CLICKING HERE