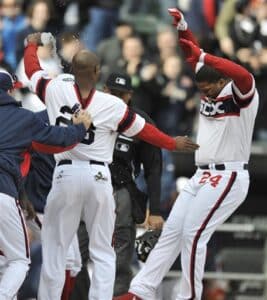 The Sox come out of the series with yet another series win, this time against the Seattle Mariners. The Sox dropped the first game, which saw Jose Quintana do fairly well up until the top of the fifth inning. In the fifth, things went completely south for the left-hander as he gave up five runs in the inning. The five run lead was too much for the Sox to overcome though they eventually rallied, and the Mariners won 8-7.
The next two games saw the Sox get solid work from their starting pitching as Dylan Axelrod dueled on par with Mariners ace Felix Hernandez. The Sox bullpen stayed solid, and held the lead which saw a 4-3 White Sox win. The next game was much of the same story, as solid pitching effort from Chris Sale, and decent work by the bullpen held the Sox over until extra innings when the hero, Dayan Viciedo stepped up to the plate and ended the game with a mammoth shot to left field that sent off the Sox celebrating.
Again, I am thrilled with the Sox series victory, but again their reliance on the long ball worries me considerably. All the runs in the rubber match were scored via the home run. Two of the runs from the second game were off an Alex Rios bomb, and three of the runs from the series opener were off of the home run. The reliance on the home run ball has been a staple of White Sox teams past, however the Sox only have three division titles in the Kenny Williams era to show for that strategy. The Sox need to work on manufacturing runs through stolen bases, bunting, and other such methods because there will be a time when the home run ball won't happen, and that is a day when Sox fans will be very frustrated.
The Sox will take their two series victories in hand, and pack their bags to go to Washington to play Bryce Harper and the Nationals. The next series will be a tough one, but it will be the Sox first test against a team considered one of the best in the MLB.
For More Great Chicago Sports Content
Follow us on Twitter at @chicitysports23 for more great content. We appreciate you taking time to read our articles. To interact more with our community and keep up to date on the latest in Chicago sports news, JOIN OUR FREE FACEBOOK GROUP by CLICKING HERE