April 1st is fast approaching everyone! The White Sox will open their season at beautiful US Cellular Field on what should be a chilly, but still sunny afternoon in the great city of Chicago. The Kansas City Royals are riding into town as the Spring Training champions, compiling an impressive 25-7 record in the Cactus League, which was also the best record among all teams in Spring Training. The Royals are looking to ride that success to a more successful finish this season in comparison to last, which saw them finish third.
The White Sox who did not nearly have as impressive of a spring at 14-14 will look to maintain the status quo in the Central, being known as a tough opponent who will never go away. The White Sox are looking to maintain last year's relatively successful play, with the exception their late season collapse. The Sox were in first place most of last year and seemed a-shoe-in to win the division, but fate would not allow it, and the Sox collapsed and did not make the playoffs.
However, all of this past will be forgotten tomorrow when Chris Sale takes the ball for the White Sox and delivers his first pitch toward home plate. At that moment, everything from last year will be behind these two teams and a new dogfight will ensue. Most "experts" don't have either team giving the Tigers a run for their money, but only time will tell.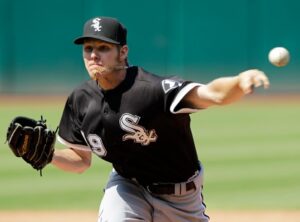 April 1st @ 3:10 PM
James Shields 15-10, 3.52 ERA, 1.17 WHIP (2012) v. Chris Sale 17-8, 3.05 ERA, 1.14 WHIP (2012)
April 3rd @ 1:10 PM
Ervin Santana 9-13, 5.16 ERA, 1.27 WHIP (2012) v. Jake Peavy 11-12, 3.37 ERA, 1.10 WHIP (2012)
April 4th @ 1:10 PM
Jeremy Guthrie 8-12, 4.76 ERA, 1.41 WHIP (2012)  v. Gavin Floyd 12-11, 4.29 ERA, 1.36 WHIP (2012)
Let's enjoy this baseball season! Go Sox!
For More Great Chicago Sports Content
Follow us on Twitter at @chicitysports23 for more great content. We appreciate you taking time to read our articles. To interact more with our community and keep up to date on the latest in Chicago sports news, JOIN OUR FREE FACEBOOK GROUP by CLICKING HERE