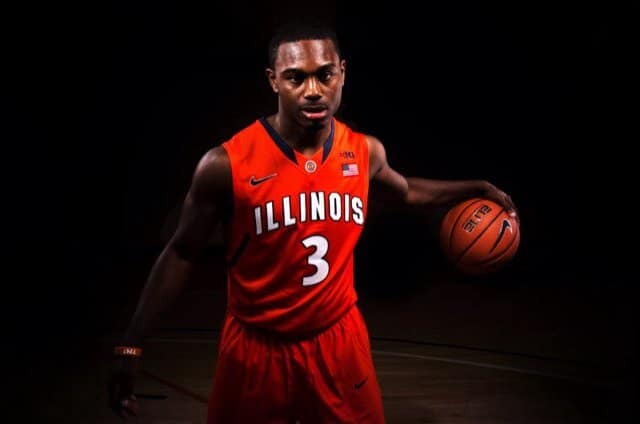 Big things can come in small packages. Just ask Tracy Abrams.
The fearless three-year starting point guard for the Illini has been an impact player despite his underwhelming build. Abrams, who is generously listed at 6-foot-2 (believe me, I'd be surprised if he's even 6-foot-0), has earned the reputation of being one the better guards in the Big Ten. Just as Abrams was about to enter this season as Illinois' most experienced player and most vocal leader, his year was cut short before it even started.
Abrams tore the ACL in his right knee during a preseason skill workout, forcing the scrappy guard to redshirt for the 2014-15 season. As one door closes, another opens.
"Well, obviously we don't want to lose Tracy," Illinois head coach John Groce said. "For us we're going to be fine. We've got Ahmad Starks, who's been terrific on the offensive end. He packs a big-time punch. We've got some fire power there."
Starks, Oregon State's all-time leading 3-point shooter, wasn't even supposed to be here today. The Whitney Young High School product felt that three years of being away from home was enough. That's why he decided to transfer from Oregon State after the 2012-13 season with the hopes of being immediately eligible at the University of Illinois.
"It was a decision to come closer to my grandmother," Starks said. "It's tough to come back to any old school just to be back in Chicago. I wanted to come to the best of both worlds with basketball and academics."
The NCAA didn't view Starks' situation as clear cut. Starks was forced to sit out the 2012-13 season after the NCAA surprisingly denied his undergraduate hardship waiver request. The process, as always with the NCAA, was time consuming and frustrating.
"I was disappointed," Starks said. "I didn't expect to be here this year. At the time I was disappointed. We all were. You can't control everything and things work out a certain way for a reason."
Starks isn't a stranger to adversity. Listed at just 5-foot-9 and 170 pounds, Starks has had to adjust to playing against taller and bigger opponents his entire life. Starks' role model growing up also had to persevere despite his small stature.
"Ever since I was younger, No. 3 was everything to me," Starks said of his idol, Allen Iverson. "He was a big influence to me. He was the big little man at the time. He's pound-for-pound maybe the best player ever. As a little kid a lot of guys want to imitate him. I grew my hair out and I had braids like he did. I wore a headband all the time when I was younger. I had a few of his shoes. My first tattoo was similar to one of his tattoos. I took a lot from him."
Starks, while wearing the famous No. 3 across his chest, has embodied the spirit of the former 76ers guard throughout his career. Starks isn't the type of player who's content with being a wallflower on the floor. He scores at will, attacks the paint, and plays with unbridled aggressiveness. Starks and his explosive play led Whitney Young to a state title his junior year and second place finish as a senior in 2010. When Starks had to decide which college he'd bring his scoring acumen to, another idol of his led to the way.
"A big influence for me going out there was Jerome Randle," Starks said of the Chicago product and Cal all-time leading scorer. "He's been like a big brother to me my whole life. Before making the decision I talked to him a lot. He was the Pac-10 Player of the Year his senior year, to follow in his steps was kind of the goal out there, being a smaller guard. That was a big reason for me going to Oregon State."
Randle is just one of the many small guards to succeed in the Pac-12. Whether it's Nate Robinson, Aaron Brooks, Tajuan Porter, or Randle, the Pac-12 is a place where size doesn't matter. Starks decided to follow in the lineage of those former Pac-12 greats and committed to Oregon State.
Starks was an impact player from Day 1. He never played less than 22 minutes a game during his three years in Corvallis, OR. Starks nailed a school record 185 3-pointers at a 36.6 percent clip and improved his stroke each season. Starks made 64 3-pointers during his last season with Oregon State at a career-best rate of 39.5 percent in 2012-13. Starks wasn't just standing on the perimeter and spotting up, he set up his own looks as well. Just 62.5 percent of Starks' 3-pointers were assisted in 2012-13 according to hoop-math.com, a number that is over 20 percent less than the NCAA average of 84.9 percent. Like AI, Randle, and Robinson before him, Starks is just a flat out scorer.
"I've always been a player that could shoot the basketball," Starks said. "The scoring guard probably came in college. Shooting the ball is what the coach asked of me. I've always been a point guard that can score the ball as well as make others look better. Whatever's needed that game, that night, that possession, is what I look to do."
Starks may very well be the most important player on Illinois this season. Most important doesn't mean he's going to be the team's best player or top scorer, but Starks is irreplaceable with Abrams out for the season.
Who would be the starting point guard for Illinois this season if Starks had already graduated? Jaylon Tate? I don't think so after his up and mostly down freshman season. Kendrick Nunn? Nunn had a tremendous freshman campaign, but he's not ready to be the team's primary ball-handler. Aaron Cosby? Cosby, the Seton Hall transfer, is more of a spot-up shooter than playmaker (81.8 percent of his 3-pointers were assisted in 2012-13). Let's face it; Starks and the Illini lucked out when his waiver was rejected by the NCAA.
"He's going to have a huge impact," Nnanna Egwu said. "He has a good track record coming from Oregon State. Everyone knows what he's done there. He proved himself in the Pac-12. Now he's going to come in the Big Ten and do what he knows how to do. He's going to provide a lot of energy. He's all in."
Starks is ready to make an immediate impact on this team. Abrams' injury and the forced redshirt season have given him that chance. The absence of Abrams will undoubtedly affect this team, but not necessarily in a bad way.
Abrams has had his bright spots but he's never fit Groce's system. Abrams has the defensive intensity and fast pace to fit Groce's style of play, but his shooting inefficiencies and poor playmaking skills hurt Illinois' offense. Starks complements Groce's system so well with his deadly stroke and offensive awareness.
"My IQ is the biggest thing," Starks said. "When to pass, when to shoot, when to get these guys going, what play to run. That mixed in with ball-handling, shooting, quickness. I feel like all of that put together is what I'm looking forward to using to help this team out."
The insurgence of a point guard with Starks' multifaceted skillset gives Groce his best point guard since D.J. Cooper at Ohio.
"His assist-to-turnover has been fantastic," Groce said of his new weapon. "He's shot the ball at a high percentage. He's competed. I think he's starting to get nastier defensively, which is what we need from him. And he's started to become more vocal. He's a smart kid so he's also teachable. He's getting better. He's a big part of our team."
Ahmad Starks might not have the athleticism of Nate Robinson (although he told me he could dunk "in the right situation"), and no, he doesn't have the scoring prowess of Allen Iverson or Jerome Randle, but Starks is exactly what Groce and Co. needs. Starks will space the floor, pace the offense, and add a dimension to Illinois that it severely lacked last season. And he can't wait for his chance.
"I'm definitely excited," Starks said. "It's getting closer. I'm a little anxious, but in a good way. I'm excited to get back on the floor and have those fans behind me".
For More Great Chicago Sports Content
Follow us on Twitter at @chicitysports23 for more great content. We appreciate you taking time to read our articles. To interact more with our community and keep up to date on the latest in Chicago sports news, JOIN OUR FREE FACEBOOK GROUP by CLICKING HERE