Last year at this time, the White Sox were using a six man rotation with Mark Buehrle, Gavin Floyd, John Danks, Phil Humber, Edwin Jackson and Jake Peavy. It didn't work very well, as certain guys faltered down the stretch, partly causing the Sox to fall short of the postseason and causing me to hate the idea of using six starting pitchers.
However, that was 2011. This is 2012, and I believe that given the current structure of the starting staff, rolling with a six man rotation would be the best course of action for the White Sox,
This is coming from a guy who during this off-season said that he'd "never be a fan" of the six man rotation. My premise behind that statement was that starting pitchers, like most types and probably more than any type of baseball player, are creatures of habit. They have a routine that tells them what exactly to do on each day of rest between starts; all the way down from throwing, to exercising, to icing and to conditioning. This is true from the MLB all the way down to the lower levels of college baseball: pitchers have routines, and they do not like to get away from them.
However, the typical pitching staff doesn't have two guys who are certain to smash their professional career highs in innings pitched (Sale and Quintana), two guys who are coming off of injury within the past month or two (Floyd and Humber) and one guy who has been baseball's guinea pig while playing with a surgically repaired detached lat muscle (Peavy).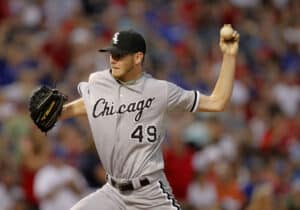 So, when you take a step back and take a look at the White Sox pitching staff, there's only one guy where the risk of straying away from a routine does not outweigh the reward of extra rest. That's Francisco Liriano, a man who is new to the organization, so I wouldn't expect a man trying to make a good impression on a new coaching staff to put up any sort of fuss about any personnel decisions (and he's been, by all accounts, a good clubhouse guy throughout his career).
All of that is why that in this particular case, a six man rotation is what the White Sox should choose to put into action. In most other cases, it might be a bad idea, but the combination of young pitchers and pitchers with recent injuries makes this one of the few scenarios where the rest outweighs the strict routines.
There is one more problem to be addressed though with a six man rotation: the bullpen. One more starter in the rotation means one less bullpen arm, and unless Robin Ventura decides to do what pretty much no one does and carry 13 pitchers, the bullpen is going to be short-handed for the duration of the six man rotation.
The option will always be there to use the starter whose turn it is to throw a bullpen session to be available for an inning of relief. I am not a fan of this idea, as bullpens are also used to work on and refine things between starts, not just to go on a mound and throw. So, with that aside, it means that the White Sox would pretty much be banking on not really having to use a long-relief man, as throwing someone like Nate Jones three or four innings in a game puts him out for more than a couple of days.
With all of that said, it looks like this six man rotation is what the Sox plan to employ. It's a risk in a lot of different ways, but no one has ever argued that this rotation doesn't have talent. They certainly have showed that they are the kind of pitchers that can pitch good games under a lot of different circumstances, and I think that's a big reason why the White Sox, along with myself, believe this idea can work.
For More Great Chicago Sports Content
Follow us on Twitter at @chicitysports23 for more great content. We appreciate you taking time to read our articles. To interact more with our community and keep up to date on the latest in Chicago sports news, JOIN OUR FREE FACEBOOK GROUP by CLICKING HERE